Miss-K, Woman Of Substance Making Moves In The Political World!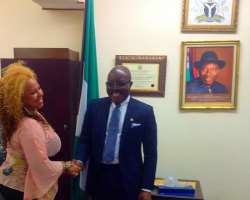 She may be as busy as a bee, and an international emerging celebrity too, but Miss-K still manages to find time to fulfill her duties as Goodwill Ambassador.
The Artist,Brand Ambassador and humanitarian, just attended a meeting with the Nigerian Ambassador,Oluwatoyin Lawal, on an official visit at the High Commission's offices in London, UK. Both With a strong sense of style, looked very fashionably attired.
Ambassador O.Lawal, who is revered for his trademark twist on classic British tailoring and bespoke style, looked dashing. Meanwhile, in the same vein Miss-K's unique posture combined elegance and added cheerful personality into her clothes. This time she suitably dressed in a subdued peach Sheer Japanese Floral Chiffon top with black legging and black high heel shoes.
Fashion, is that distinctive trend in which Miss-K swears by on daily basis. She always loves wearing colours to bring out her sun kissed complexion.
The duo spoke about Miss-K's humanitarian role, one which she has held since 2009. Though she has been quite drawn to Africa during those past few years, it was a visit to Nigeria (where she shot her MTN billboard campaign) that brought more weight to her impressive career.
The golden beauty recently credited as 'dressing her curves to perfection' by several online media outfit,after her latest outing while attending the red carpet premiere of "the broken bride" Nollywood blockbuster, keeps on maintaining a balance between classy and sexy.
Yet despite the glamorous clothes, she still keeps it real and wont allow her celebrity routines, turn her into living a shallow life. She said : 'Having attended some of the best fashion schools in the world, i can honestly say that...when it comes to fashion i am a visionary...it's in my blood..I create..Fashion allows me to dream and take my fashion dreams as far as i desire...and that the one way of expression that gives me total freedom and that's what great about fashion.'
She further went on to add : 'Without the balance of doing things that actually matter in the world --and being part of the real world -- then I would have been left in a bubble.'I probably would have just had a very empty life.'
She added: 'I have a real view of the real world. I'm very touched and very moved by people and what they overcome.They have always reminded me to just wake up in the morning and be grateful for being alive and healthy. Nothing else matters.'
MISS-K & DEPUTY HIGH COMMISIONER OF NIGERIA AMBASSADOR LAWAL 2
MISS-K & DEPUTY HIGH COMMISIONER OF NIGERIA AMBASSADOR LAWAL2
MISS-K & DEPUTY HIGH COMMISIONER OF NIGERIA AMBASSADOR LAWALPHOTO 11