Udom Emmanuel: Interface Of Fear And Faith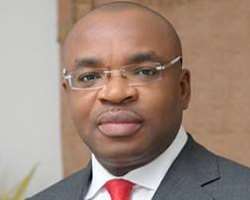 It's almost a year now since Udom Emmanuel was called upon to serve the amiable people of Akwa Ibom state as Secretary to the State Government (SSG). His appointment was a significant upturn in the political nomenclature of the state as expectations of excellence, success and good governance heightened: a successful foray into politics.
His past record of great achievements and integrity endears him to many while others are simply enraged that his entrance to the 'power house' would negate and expose all forms of mediocrity and arsy-varsy attitude they've paraded over the years.
This is expected in any case as only very few people are comfortable with change. Migrating from the psychology of your comfort zone to a realm of novel challenges requires enormous faith, optimism and courage.
The feeble-hearted, selfish and easily intimidated snarled to the camp of fear while the eagle-eyed embraced his appointment as a positive addition to the Akwa Ibom governance. From the very first day the SSG assumed office, there were speculations he was coming in to become the next governor of the state.
How did they know this when he had not spoken a word to that effect? The truth is that it is easy to spot a giant in the crowd. Citing the unparalleled credential of the towering Banker was taken as a conscious attempt by His Excellency, Gov. Akpabio to flag an outstanding brand (which is what the state needs; anyway). This was the beginning of fear for those who have been eyeing the hill top job.
This fear has driven many to prate in unprofessional manner, thinking their attack can destroy the person and character the SSG has built over the years. People should know that a man who has passed through that level of training and global exposure must have adopted resilience as second nature.
Why fear? Lack of knowledge is what births fear in most situations: a better approach would be to show an open minded acceptance of this illustrious son of the soil and getting to discover what he has in stock for his kinsmen. You cannot fully appreciate people/things until you understand their value, purpose and inclination. How do you understand what you are unwilling to learn about? Being repulsive is only a cheap way to express and accept defeat.
Striking Udom with strident tones cannot make him deteriorate or shrivel, raising prevaricators against him will only unearth the corruption of angry men, mudslinging or insulting him moves people to ask potent questions that elevate his position and conspiring against him is a complete abuse of resources.
The difference between the fearful and the faithful is their approach to life.
Positive minded Akwa Ibomites see UGE'S gargantuan success trend as a thing of pride for the state; a personality to emulate, a good example to youngsters, encouragement to middle-aged and mentor to all.
Faith flooded the heart of many the moment the governor beamed his search light in Udom's direction; they were happy for the choice, they wanted a fresh touch to the already saturated and polluted political under-water, they knew the excellence acquired through his career expedition will definitely be beneficial to all.
This faith is what has driven the people (both young and old, male and female) to persuade him to consider giving a go at the forth-coming gubernatorial race come 2015.
The fact that he left his glamorous position as a successful banker to serve his people demonstrates to us that Udom truly loves the people: he is people oriented and committed to positive changes. A guru in strategic management with ambulant leadership qualities can only produce a happy, satisfied and unified State in the nearest future.
Udom has not yet declared for the race but the tide is high and gallinippers are having a field day trying to assassinate his character with the slightest opportunity. The accusations and insult just keep coming; are they building or destroying the land? If you truly love the people why not give them the privilege to experience the benefit of having a technocrat like UGE at the hem of state affairs.
When fear meets faith, it's only natural that faith, as the positive force wins. The ones who have chosen to reel in fear have a chance to join the rest of the people now to support this good cause but if they refuse, faith will soar. It doesn't matter how many people are fearful, ignorantly angry or jealous, those who see far have positioned themselves to be instrument of change in support of Udom Emmanuel.
Monarchs have spoken, youth have declared their stand in favour of him, women desire change and men want a role model- are you still immersed in spumescent thought? The leads are clear and the people are willing to let their faith materialise. If Udom Emmanuel decides to go on the race, faith will produce a bountiful harvest for the whole state.
There is no need to fear, Udom is a capable hand: follow the path of faith and soar on eagle's wing to your promised land.
Disclaimer:

"The views/contents expressed in this article are the sole responsibility of the author(s) and do not necessarily reflect those of The Nigerian Voice. The Nigerian Voice will not be responsible or liable for any inaccurate or incorrect statements contained in this article."