US, Nigeria exceptional countries – Entwistle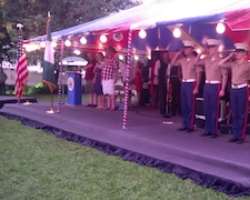 US, Nigeria exceptional countries €" Entwistle
United States top diplomats in Nigeria on Saturday 5 July said the US and Nigeria are two exceptional countries in the world that share many values in common beyond just commercial and cultural ties.
The commendation on the ties between both countries was made as the US celebrated its 238th birthday.
The United States declared independence on 4 July 1776 from the Kingdom of Great Britain, now officially known as the United Kingdom, and the date is being celebrated every year by Americans at home or abroad.
"I find Nigeria to be a truly fascinating country," the US Ambassador to Nigeria, James Entwistle, said at an American-style cookout held at the residence of Jeffrey Hawkins, US Consul General in Lagos, western Nigeria.
"As I travel around this country, and as I talk to Nigerians on any subject, it quickly becomes clear the depth and the breadth of the relationship between our two great democracies."
Entwistle said the relationship between Nigeria and America has been 'good and wonderful' for many decades.
"Whether you're talking about military assistance, commercial ties, cultural ties, the relationship between our two countries has been good, has been wonderful for many decades."
Hawkins said apart from huge trade ties and the big Nigerian population in America, there are at least three values that make Nigeria and America exceptional in the world.
"Nigerians are really American and Americans are really Nigerian. The two countries are very very similar; they share a lot of values," Hawkins told hundreds of American and Nigerian guests.
"Just three examples of that: We are both very forward looking people, we're always looking ahead, we're optimistic. (We) are people of great faith," Hawkins said.
He said Nigeria and America are also two truly democratic countries and pledged America's partnership for that democracy to be strengthened in the 2015 elections.
"And as we go forward, and as we look at 2015 and the great electoral contest that is coming up here, we're very interested in cementing those values further, and working with all sorts of partners to make sure that 2015 elections are peaceful and credible."
Hawkins said Nigeria and America also play a great role in the world affairs. "The United States plays that role and Nigeria does too. You see that on the Security Council or the work that you do in peace keeping and engagements in the African Union. These are things we share in common."
Hawkins said despite terrorist threats and other concerns, Nigeria and America will remain partner and will continue to play greater role in the world.
The event was attended by about 500 Nigerians and Americans who defied the heavy rain, including the king of Lagos, Oba Rilwan Akiolu, ex-governor of Anambra State, Peter Obi, writer Chimamanda Ngozi Adichie, diplomats and other low and mighty residents in Nigeria.
The guests were entertained by American band, Henhouse Prowlers.
Disclaimer:

"The views/contents expressed in this article are the sole responsibility of the author(s) and do not necessarily reflect those of The Nigerian Voice. The Nigerian Voice will not be responsible or liable for any inaccurate or incorrect statements contained in this article."