Sexy role not for me-Queen -----Queen Nwokoye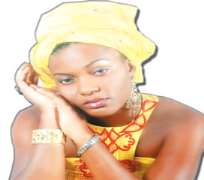 Queen Nwokoye is an actress who made her entry into the make-believe world some years ago with her first movie titled 'Nna men.' She has since followed that up with several others. In this interview with FUNMI SALOME JOHNSON, she spoke about her career, especially on whether or not she could play some romantic roles. She also spoke on other aspects of her life. Excerpts:
You are one of the very popular actresses in Nigeria today. Have you had to pay any price for stardom?
I have had to face a lot. I don't have my privacy any more. You cannot do things you normally do any more and the most painful of all of them is the fact that my Sundays are not free for me to go to church and serve God like I used to any more. Almost every Sunday, we are out there working and before you know it, one has started backsliding. You know, you just miss a lot of things and sometimes, one has this nostalgic feeling of going back to one's former ways of living that usually made one happy. But what can I do, I have adjusted and I just hope that things will go back to normal some day.
What has been happening to you of recent?
Nothing much, just work and work and work.
Not too long ago, you visited South Africa, what did you go there to do? Was it official?
Not really, I went there to rest, I wanted to cool off and so I just went there to rest.
So how was the trip?
It was nice, the place is beautiful, the system is fine; everything works. I felt like this is what we should be enjoying; that place is beautiful.
What are those things that you saw there that really caught your fancy?
The roads are very fine, everything is so organised. I don't even want to talk about their electricity system over there, everything is simply good, I felt like staying back some more time but I had to come back and resume work. I just hope I will have the chance to go back again.
Talking about movies, how would you compare what we have here and the one in South Africa?
I really don't know much about their movie industry, but I think they are trying in terms of standard from the little I have seen. I think that they are really doing good. When I got there, I really did not delve into their movie world except for some few people who spoke with me for one business or the other. I just went there to chill out. Apart from those people that I met, I really did not delve into anything work per se.
Has there been times when some of your fans had to see you differently?
That has happened a lot of times. When some see me, I get a lot of mixed reactions from them. Some will be like, oh God, you look prettier in real life than in movies. I get more of such reactions. If I meet a hundred people, ninety nine will tell me that. They will tell me that I look finer in real life than in movies, they will tell me that I look different on ground than in movies. Most times, because of the roles I play, they expect me to behave in a certain way because that is the picture they had painted about me. Sometimes if they see me dancing or gisting and jumping around, they look at me surprised because they expect me to be very quiet or be a dumb person that is always crying. But I am not like that in real life. Yes, I am quiet but not that kind of quietness they see in movies; so most times when they see me, they are very surprised at the way they see me play in real life and they always tell me that I am different in real life from what they see in movies.
Do you have any intention of playing romantic roles?
I have been playing romantic roles, unless you are talking of raunchy sexy roles or the very, very glamorous type of movies where you wear mini skirts and half tops. It is not that I cannot play such roles, but most times, some of those movie don't really have good story lines. It is just about the dressing, the make up accessories and the shoes. I prefer movies that have a good story line where you can actually watch and say yes this is what it is talking about. And most times village settings and epic movies do it for me. I prefer emotional stories; I think that is my speciality. It is not that I cannot play any other role but there is this feel you get when you are doing a movies... I mean, you get job satisfaction.
Is it that such roles have not been coming or that you have been turning them down?
Such roles come my way regularly, I get scripts like that but most of the times, they do not have very good story lines, so I find myself opting out. I cannot do a movie if it is just all about showing my body and all that for no just cause. I don't want to waste my time doing such movies.
It could be that the pay is just not right in some instances. What would you say to this?
You can reject a script based on the pay and you can as well reject it due to its content. Most times the content is not really something I will like to associate myself with, although even if the story line is good and the pay is good, there are some things that I cannot wear. All those abnormally short skirts and body exposing tops, no, they are not for me. It is not my thing at all. As a girl, you could bare a little flesh here and there, sometimes depending on what you are playing, but I will not want to overdo it. So if the movie is all about what I feel I can do, I will do it if the story is nice; but if the story is not nice, I will not even bother at all. Yes I know people love movies where actresses are flashing a little bit of skin but you have to be comfortable doing it. I will not do it because some other persons are doing it; I will do it because I have read the script, I love it and I want to be a part of it, not because that is what is in vogue.
Are you saying you are not a party to the school of thought that says if you have it, you flaunt it?
Not quite, but I believe that if you have it, you can flaunt it but sensibly. I am not a party to having it and flaunting it immodestly but you can bare a little but not to the extent of creating an eyesore and offending the eyes of others.
So you mean you can not play nude even for a million dollars?
Apart from the fact that nudity is not part of our culture, I can never play nude because we have viable audience. Nigerian audience are not so mature on that. For instance, they will watch blue movies and see nothing wrong with it but once they see a Nigerian girl with just a shifted slit, they will start shouting that the person is spoilt; meanwhile they do worse things than that. So, I will not for any amount want to do a thing like that because they are the ones that will say; you people don't do it well, you want to kiss, you close your mouth; when you people are trying to make love, you cover up with blanket. You just try and do it the way they want it and you will be surprised at the reaction. It is just because our audience is not good enough for such things.
By the way, what were your parents' reactions when you told them you were going to be an actress?
Funny enough, when I told them, they did not object at all. The only thing my mother said was that; I believe I have trained you well and I believe I have also impacted good values in you and knowing what is good and bad, go out there and make us proud. And I always remember that because they trust me, they know me well and they know that I can hold my own anywhere. They watch my movies and that is the reason I cannot go out and mess up in any movie because I know that they watch me and they also give out to their friends to watch.
What should the public expect from you this years in terms of movies?
You are to expect an improved Queen that is learning everyday, doing a lot of research to make her fans happy. As each year goes by, you learn from your mistakes and you try to improve on it and that is what I am working at. I am working on it and I am also trying to see if I can incorporate a little more of the romantic roles that we have talked about, so that I will not be known for just one thing. I want to diversify and show my acting skills and prowess in other areas of acting by playing multiple roles this year, so that people will start seeing the other sides of me. I am not going to do anything raunchy; I am not going to do anything immodest and I am not going to do something that my fans will be ashamed of but I am going to show them an improved Queen.
When are we to expect the wedding bells to ring?
Wedding bells will ring when it will. I have always believed in that but you cannot force the wedding bells to ring; it will ring when it has to ring. But the thing is, when it comes to marriage, I have always believed that there is no hurry in life; no need to rush because when you rush into something, there is always the tendency that you rush out and I am one person that does not believe in divorce. I don't believe in it and I will into want to do it, so the only alternative for me is to look before I leap. So, right now I want to do all the looking. Because when I enter, I am not coming out, so they should just allow me to look first and I promise them that once I finish my looking, definitely, the wedding bells will ring.
How soon will that looking end?
(Laughs) there is no time limit to the looking but once I see what I want or what I am looking for, definitely, it must ring. If it does not want to ring, then I will ring it myself.
What kind of man attracts you?
Fun loving and quiet. I have always have this feel for quiet guys; I love guys that are quiet; fun to be around with; understanding and God-fearing. That is what I am looking for; that is what I want actually. I am not looking, that is what I want.
What word do you have for your fans?
I want to commend my fans because I really have lovely fans and they have been so supportive. Even when you think they will turn their backs on you, they are still there. I really want to thank them and I think I am blessed having them and I am promising them that I will not let them down in everything that I do. They will always come first. I really need to thank them; they have been too good to me.
Story by nollywoodgists.com