Military kill 53 Boko Haram fighters in Borno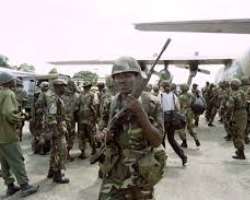 Military kill 53 Boko Haram fighters in Borno
Not less than 53 members of Boko Haram terrorists were killed as soldiers repelled a daring attack on their locations in Dam­boa, Borno State, the military said on Saturday.
According to the military, the insurgents had stormed their locations while most of the soldiers were out on patrol of surrounding villages.
A statement from defence spokesman Major-General Chris Olukolade added that five soldiers and a senior military officer had also been killed in an exchange of fire on Friday night.
Reuters reports that the police had earlier said insurgents had attacked the Damboa base, in the northeasterly Borno state, with rocket-propelled grenades. A security source said the raid was a revenge mission after dozens of Boko Haram militants were killed in an air and ground attack on two of their camps in the Yejiwa and Alagarno areas.
In a separate incident, also on Friday, a suicide bomber targeting worshippers at a mosque in a remote village in the village of Konduga in northeast Nigeria killed five people and wounded dozens, a security source said on Saturday, in an area where Islamist insurgents are mounting attacks almost daily.
The source, who declined to be named, said Muslims in the village were observing Friday prayers when the pick-up truck approached.
A local vigilante group stopped the truck to inspect it and the bomber then detonated the bomb a few metres from the mosque, he said. There was no immediate claim of responsibility, but Boko Haram was likely to be the prime suspect.
A total of 5 soldiers and a senior officer were killed in the attack.
A Defence statement last night said a search of the locality is ongoing, while the bodies of the fallen sol­diers have been recovered and deposited in the military morgue.  The wounded are also receiving treatment at a military medical facility.
A security source hinted that the attackers fired Rocket Propelled Grenades and used Improvised Explosive Devic­es (IEDs) but the military re­pelled the terrorists in a fierce battle, killing about 50.
However, some soldiers reportedly lost their lives in the fight that lasted into the night on Friday hours after a suicide bomber killed five people and injured over 10 in neighbouring Konduga, cen­tral Borno.
 
The Friday attack at Dam­boa, according to a police source, was a reprisal attack following a military clamp­down on the insurgents camps at Yajiwa and Alagar­no in the area on Thursday. A military air raid with support from ground troops had bom­barded the terrorists enclave around the area, killing over 50 of them. The raid which left the terrorists with heavy casualties was said to have promoted a reprisal on Friday.
"It was a successful air raid carried out by the airforce in conjunction with the ground troops of the Nigeria army from Division 7. During the air raid that took place on Thursday evening, the Boko Haram suffered heavy casual­ties as dozens of them were killed. Angered by the dev­astation they suffered, the in­surgents decided to mobilise in full force with an attempt to attack the base in Damboa, but unknown to them, the soldiers there were fully alert about possible reprisal attack. And when they eventually surfaced on Friday evening in over ten vehicles, soldiers en­gaged them in a fierce shoot-out that claimed over 50 of them," the source added.
Police Public Relations Officer at Borno State Police Command, Gideon Jubrin, a Deputy Superintendent of Police (DSP) confirmed the attack but said "the command does not have any details as at press time.
There was an attack at Damboa but we don't have the details now," he told journalists.
Damboa, located south of Borno, about 85 kilometers from Maiduguri has wit­nessed many attacks from insurgents in the state, forc­ing many residents to flee the area. Sanity appears to have returned to the area as the hitherto deserted town known for abundance of fruits came alive again.
In another development, troops on patrol around Baga area have recovered explosives and rifles con­cealed in a truck loaded with fish and other commodities.  Four suspects have been tak­en into custody in connection with the incident.
At Konduga also in Borno State, a suicide bomber in a Golf cayesterday crashed into a checkpoint killing him­self, a policeman and three vigilante youths on Friday.
Agencies/ reports