I remain the authentic PDP Secretary – Oyinlola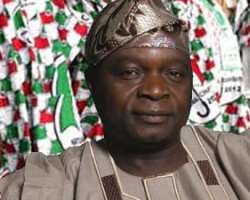 President Goodluck Jonathan on Tuesday met behind closed doors with a former governor of Osun State, Prince Olagunsoye Oyinlola, in what political analysts say could be connected to the August 9, gubernatorial election in the state. ‎ Oyinlola, who was sacked national secretary PDP, was accompanied to the Presidential Villa by the party's national chairman, Alhaji Adamu Muazu.
He told State House correspondents when asked about his rumoured move to All Progressive Congress (APC), that, "All I am telling you is that Oyinlola in the face of the law remains the authentic secretary of the PDP anybody in that office for now, is a pretender.
"I was taken to the Villa by the Chairman of the party PDP, and we had some discussions as to how to move the fortunes of the party forward".
The Independent National Electoral Commission (INEC), told a Federal High Court in Lagos last month, that it does not recognise Professor Wale Oladipo as a pretender Oladipo as the National Secretary of the PDP. INEC had urged the court to strike out a suit challenging the recognition of  Oyinlola as the National Secretary of the Party.
Its counsel, Vilba Kintai, stated that the PDP had so far failed to produced any court order compelling it to recognise Oladipo.
The suit, which was filed by top officials of the party in the South-West, is praying the court to order INEC to recognise the incumbent as national secretary.
The plaintiffs are the state chairmen of the party in Ogun, Oyo, Osun and Ondo as well as financial secretaries in Lagos and Ekiti. They are Chief Adebayo Dayo, Alhaji Olayinka Taiwo, Alhaji Gani Olaoluwa, Chief Ebenezer Alabi, Dr. Tope Aluko and Chief Taiwo Kuye.
Oyinlola had been reinstated as the National Secretary of the PDP by the Court of Appeal on November 6, 2013.
Dissatisfied with the verdict, the respondents proceeded to the Supreme Court to challenge the ruling.
Oyinlola later filed another action at the Federal High Court, Abuja, challenging the suspension and failure of the party to recognise him.
Meanwhile, an application filed before the Supreme Court for a Stay of Execution of the Court of Appeal judgement which reinstated Oyinlola would be heard on July 6, 2014.