Boko Haram: Ohanaeze Youth Wing vow to defend territory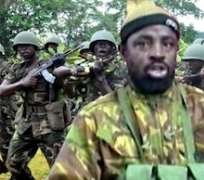 Leaders of the Ohanaeze Youth Wing  have vowed to defend their territory in the face of the terrorist attacks of the Boko Haram sect.
They made the declaration in during the inauguration of the newly elected National Executive Council of the Ohanaeze Youth Wing in Enugu.
Making his inaugural address, the new leader of the Ohanaeze Youth Wing, Mazi Okechukwu Isiguzoro, raised the alarm over the gradual incursion of the Boko Haram sect, and Fulani herdsmen, into the South East.
'We condemn the ongoing Boko Haram terrorist attacks as an ill wind that will blow no good. We shall do all in our powers to defend Igbo territory against the incursion of Boko Haram since such incursion shall have dire consequences for national security.
'We as well condemn the terrorist activities of the so-called Fulani herdsmen who terrorize innocent farmers and women at will.
'Just two days ago, they attacked two women at Agbogugu, here in Enugu State in their farms, maiming them seriously,' he said.
He urged the Arewa Consultative Forum to call the perpetrators to order 'if those people are actually Fulani herdsmen.'
Stressing that the Ohanaeze Youth Wing would collaborate with the governors to combat kidnapping, armed robbery and other criminal vices in Igboland Isiguzoro urged President Goodluck Jonathan to help fight insecurity in the South East by 'extending amnesty to South Eastern militants who were denied amnesty by President Umaru Yar'Adua based on their being from the South East.'
He explained that the Igbo militants who fought in the creeks alongside 'their Ijaw brothers' had relocated to the South East with their armory and their boys after they were not carried along in the amnesty programme.
The Ohanaeze youth leader further urged Jonathan to provide more infrastructure in the South East in order to guarantee the support of the Igbo youths in the 2015 presidential election, 'when he decides to run'.

Chairman of the event, former Chief of Army Staff, Gen. Azubuike Ihejirika (rtd), in his remarks, urged Nigerian youths to fight insurgency and insecurity.
'President Goodluck Jonathan is performing very well - there is so much we can do in this country but without security we cannot do much.
'When you empower the youths, you fight insecurity, youths must not go to sleep,' he said.