LEAGUE BOARD SUSPENDS TORNADOES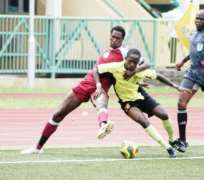 Yemi Olus with agency reports
March 23, 2010 12:17AM
Kola Olawale of Lobi stars(L) fights for the ball with Bayelsa Utd defender Markson Ojobo during a League match. Photo: FEMI ADEBESIN-KUTI
Globacom league side, Niger Tornadoes FC has been fined and suspended by the Premier League for violent conduct by its supporters after their home game against Bayelsa United football club in Minna over the weekend.
Centre Referee Gabriel Adigwe and his assistants were allegedly attacked by fans suspected to be those of Niger Tornadoes FC.
In a statement from the league board's media department, Tornadoes were fined N1 million only payable before their next home match against Gateway FC.
The club will play its subsequent home games behind closed doors until the Disciplinary Committee of the NFF meets, while Ahmed Ibrahim Katun, Niger Tornadoes Supporters Club Chairman and one Abdulrasheed Yusuf, also of the Tornadoes Supporters Club were placed on indefinite suspension for bringing the game into disrepute. The management of Niger Tornadoes was further directed to identify other perpetrators.
The club was also fined another N400, 000.00 for allowing its fans to attack the Centre Referee and Assistant referee; N200, 000.00 each for the assaulted Referees.
Al-Hassan Saleh Yakmut the secretary of the board expressed dismay over the incident.
'I'm totally displeased with the incident in Minna and this is becoming a recurrent decimal and shall necessitate stiffer disciplinary measures including banishment which shall further be placed on any club found wanting,' he said.
Referee's experience
Gabriel Adigwe, the referee, who was attacked, told KickOffNigeria.com that he fears he has been 'psychologically damaged'.
'Immediately after the final whistle, fans rushed into the field and attacked us. There were police officers around but they were not effective. I was viciously punched a number of times on the back of my neck, close to my ears.
'I almost collapsed, but I was afraid that if I fell down, they will trample me. My hands are swollen from trying to cover my face from the blows.
'The AR2 was also punched twice in his back and stomach,' Adigwe said.
'After the police fired tear gas, they (the fans) fled and started throwing stones at us. It met one person on the head. He was seriously bleeding; the blood gushed out of his head and poured on my shirt.' 'We waited for about 40 minutes in the dressing room before we left the stadium.
'The fans said they have to beat me up to teach me a lesson because I don't help them in their home games. They say that every time I come to their home games, they always play draw. I am seriously damaged psychologically and I don't know if I can do any match after this without the fear of being beaten again.'