Court to rule on ex-PDP chairman, Ogbulafor's corruption trial July 24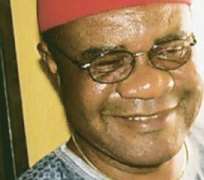 Ogbulafor
Justice Ishaq Bello of the Abuja High Court on Wednesday reserved judgment till July 24 in a case filed by an anti-graft agency against
The former Chairman of the Peoples' Democratic Party, PDP, Vincent Ogbulafor, and two others will on July 24, 2014 know their fate in the case of corruption charges filed against them by the Independent Corrupt Practices and other related offences Commission (ICPC).
Ogbulafor along with Emeka Ebilah and Jude Nwokoro, are facing a 17-count charge of conspiracy and award of fictitious contracts worth N107 million before an Abuja High Court..
ICPC charges Ogbulafor of conniving with the others to float three fictitious companies with which they allegedly perpetrated the fraud, while he was serving as minister of special duties.
,Ogbulafor served as Minister of State for Special Duties in 2001, from where he was elected chairman of the ruling Peoples Democratic Party (PDP)
According to the anti-graft agency, the trio used Henrichiko Nig. Ltd, DHL Consultants and Chekwas Industries, to siphon N82.6 million; N11.5 million and N6.2 million, respectively, in 2001.
Ogbulafor was specifically alleged to have used his position as head of National Economic Intelligence Committee (NEIC) set up to verify debts owed local contractors, to okay as genuine, several forged documents.
He was alleged to have relied on the forged documents to certify that the three fake companies successfully executed jobs worth N104 million.
Mr. Ogbulafor was also alleged to have collected kickbacks of N2 million and N28 million from Mr. Ebilah.
The offences levelled against the accused persons are said to have contravened Section 19 of the Corrupt Practices and other Related Offences Act, 2000.
Mr. Ogbulafor had admitted recommending the second accused to former President Olusegun Obasanjo for membership of the NEIC in July 2010.
However, he denied appointing Mr. Ebilah as the secretary of the committee after its reconstitution.
Mr. Ogbulafor told the court that he was directed to reconstitute NEIC by Mr. Obasanjo in July 2001.
Agency reporter