Anambra: Obiano presents scorecard for first 100 days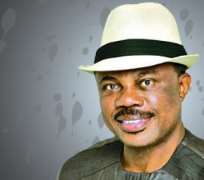 Governor Willie Obiano of Anambra State has presented his scorecard as part of the programmes to mark first 100 days in office. He said his administration has recorded achievements in various sectors including road infrastructure, health, education, oil and gas, among others.
  In a special radio/TV broadcast yesterday, Obiano said since assuming office as governor, he has consulted widely with different segments of the society to build a consensus among the people and earn the confidence of all stakeholders.
  'Having established a stakeholders' forum with Anambra people, it would hold two times a year and we expect every good Anambra person to attend and play a role in the development of our beloved state', he said.   
  On his achievements, the governor noted that much needed to be now, saying however, that since his primary responsibility is to secure lives and property of people, he has inaugurated the Joint Task Force on Security (Operation Kpochapu) to tackle all criminal elements in the state and beyond.
  He said: 'We provided the team with 47 ultra-modern patrol vans, necessary crime-fighting equipment and funding to rid the state of criminals. We have also arrested 77 kidnappers. Anambra is one of the safest and most secured states in the federation.
  'Government has successfully flagged off the construction of 14 new roads across Anambra, totaling about 167.494 kilometres, which are of enormous economic and strategic importance to the state, as they open up direct access to the food basins of the state.
  'They include the 8.1km Omor-Umumbo Road, the 5.7km Nteje-Umunya Road, the 13km Umueje-Oil Rig Road, the 5.3km Achina-Oneh-Agbudu-Ogboji Road, the 42km Aguleri Uno-Oil Rig Road, the 7.834 Iyora Anam Anambra State and Bridge No. 1 at Eziachi River, the 6km Amansea-Ndiukwuenu road, among others.
  'The newly inaugurated special committee on land acquisition and mediation on May 15, this year with Dr. Tim Menakaya as chairman, has so far acquired 5,000 hectares, promising to increase production above the current 80,000 metric tons per annum and consumption of 320,000 metric tons per annum'.
  He pointed out that part of the benefits include the attraction of more investors for industrial agriculture in the state, while the target is to expand from the current volume of 2,500 hectares in Anaku to 10,000 hectares in the first four years of his administration. 
  In oil and gas, 'We have recorded some progress in our efforts to make Anambra the 10th oil-producing state in Nigeria. At the moment, we produce 6,000 barrels of crude oil per day. We have just flagged off the construction of a bridge across the Omambala River, …the Orient Petroleum Refinery currently under construction in Aguleri will become operational in the next nine months'. 
  All these would lead to massive job creation for our unemployed youths, he said.
   'In Education, we have commenced a strategic process of building our human capital in this sector to meet the challenges of the century, and in partnership with Microsoft, have commenced training-of-trainers' workshop on ICT for 52 ICT demonstrators in schools. We have also started the deployment of ICT facilities in the 256 secondary schools in Anambra State'.