Model's husband kills self after filing for divorce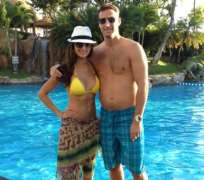 A husband who shot himself dead at a shooting range after his model wife was pictured cozying up to Leonardo DiCaprio had filed for divorce weeks before, MailOnline can reveal.
Kate Cleary was pictured cuddling up to DiCaprio and Entourage star Adrian Grenier last month in Cannes, before her husband Andrew Stern killed himself at a California shooting range on Sunday.
He had filed court papers to end the couple's less-than-four-year marriage just weeks before the images emerged, according to court documents.
And Cleary and Stern were still in the process of dividing up their assets when the 40-year-old entrepreneur took his own life with a bullet to the head at the San Fernando Valley gun range.
A spokesman for Cleary tonight claimed the pictures were harmless but friends of his told TMZ that he felt humiliated.
The divorce papers read: 'The exact nature and extent of [Stern's] separate assets including, without limitation, funds and/or other property interests due to [Stern] from [Cleary] by way of recoupment, misappropriation… are presently under determination.'
Cleary and Stern, who had appeared on Bravo's dating show Millionaire Matchmaker, married the model on July 31, 2010.
The court documents state the pair separated on April 3, 2014.
However, Cleary's rep told TMZ the couple broke up eight months ago and said Cleary and Grenier had been friends for sometime. The rep said that Cleary and Dicaprico had only met the night they were photograph but insisted they were innocently discussing animal conservation and nothing else.
However, the celebrity website cites sources as saying Stern felt humiliated by the pictures and was suffering depression.
Interviews with the couple's friends revealed he was 'suffering significant stress over marital problems' and had a history of depression, TMZ earlier eported, while others said he had financial strains.
 
 
 
She said passengers tended to direct their frustration at her, angry about her breast operation.
Myleene then asked her: 'But can you understand that kind of anger?
The tragedy comes just four weeks after 32-year-old Cleary was pictured getting close to DiCaprio at the Gotha nightclub in Cannes.
The pair were seen chatting and dancing closely, while DiCaprio was pictured whispering into the model's ear. The apparent closeness came even though DiCaprio is dating Victoria's Secret model Toni Garrn.
Katie, who is from Glenview, Illinois, appeared on the first series of America's Next Top Model while she was still a college student, before landing the role of 'briefcase beauty' on popular game show Deal Or No Deal.
The brunette beauty has since had minor roles in The Break Up, Iron Man 2 and Entourage, while appearing in advertising campaigns for Sketchers, Nike and Elastiderm.
She was also spotted out and about with Entourage cast member Adrian Grenier while in Cannes.
Stern had set up his own successful marketing firm after graduating from Miami University in Oxford, Ohio and moving to Los Angeles.
Initially working for other companies, he started his career with the Los Angeles Lakers, Taco Bell, Southwest Airlines and Pepsi, according to an obituary posted on Performance Marketing Insider by a business friend, Pace Lattin.
After working with professional athletes including Kobe Bryant and Anna Kournikova at Broadband Sports, he joined L90 Worldwide as a sales and media planner, it noted.