Boko Haram abducts 91 again in Borno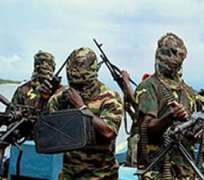 The Boko Haram insurgents have abducted another 91 persons between Thursday and Sunday from the Kumanza,Yaga and Dagu, Damboa and Dagu, Damboa and Askira Uba Local Government Areas of Borno State.
According to local vigilante officials, Four other villagers were killed while attempting to escape from their abductors.
Aji Khalil, Chairman, Sector 5 of the local vigilante group in Borno State, who spoke on the telephone, said: "More than 60 women were among the villagers abducted by Boko Haram terrorists.
"Some suspected Boko Haram members invaded Kumanza, Yaga and Dagu villages and kidnapped 91 persons. More than 60 married women and young girls as well as children and young men were forcefully taken away by Boko Haram terrorists. Four villagers, who tried to escape were shot dead on the spot", Khalil was quoted to have said on telephone on Monday night.
The attacks were not immediately known in Maiduguri because of the remoteness of the area as the affected villages are about 100 kilometres away from Maiduguri, Borno State capital.
There was no official confirmation either by the military or police in the state at press time while the chairman of Damboa Local Government, Alamin Mohammed could not be reached on his mobile phone while the council secretary, Modu Mustapha insisted he was not authorized to speak on the matter.