Tinubu, Oyegun, other APC leaders beg Oyinlola to to save APC in Osun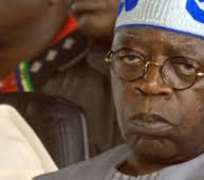 The shocking defeat of Fayemi has forced the APC leadership, according to party sources, to go back to the drawing board to map out a strategy to ensure that APC does not lose Osun State scheduled to hold its governorship election on August 9, 2014.
It was gathered that APC leadership did not nurse even the faintest idea that Fayemi had everything going for him would fail the people's test.
The had banked on the incumbency factor, his laudable stewardship as governor for four years and the fact that he belonged to APC which supposedly had the South-west geopolitical zone firmly in its grip. The election, by all estimates, was his to lose.
It further learnt that in addition to other factors, the main opposition party was grossly hampered for lack of funds to effectively execute the election in Fayemi's favour.
A source was quoted to have blamed Fayemi's failure to the fact that t APC ran out of resources to effectively execute the election on Saturday. It was not a case of Fayose being more popular than our candidate.
An a unnamed source in the PDP had hinged the PDP victory on its ability to deploy all the arsenal at its disposal to win Saturday's election in Ekiti.
He said a leader of the PDP in the South-west, Alhaji Buriji Kashamu, played a significant role in influencing the outcome of the Ekit election by deploying 25 persons in every village in Ekiti as volunteers and agents in the state.
"Each of them was empowered with bags of rice and cash, which paved the way for them to canvass for votes and protect them."
He disclosed that Fayemi lacked the charisma of a grassroots politician willing to canvass for votes in every nook and cranny of the state. PDP, on the other hand, shed all airs of superiority and begged for the votes.
"Let there be no doubt, the PDP has made its inroads into the South-west and we shall not stop at Ekiti as we have Osun and other states in our sights. We will keep changing strategy as we go along while APC continues to make the noise," the source quoted to have said.
APC leaders, it was further learnt, is now jittery over the Osun case as they perceive the governorship candidate of the PDP in the state, Oyiola Omisore, as a man of similar tactics and disposition as Ayo Fayose.