Briton returns looted Benin artefacts after 177 years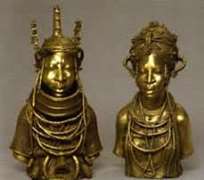 A Briton, Dr. Mark Walker, has returned to the Oba of Benin, two bronze works carted away by his great grandfather 117 years ago during the invasion of Benin by British soldiers.
The two bronze artefacts, a long-beaked bird and a bell, which were removed by his great grandfather, Captain Philip Walker, in 1897, were received by the Oba at a reception organised in honour of the Briton in Benin.
The monarch, Oba Erediauwa, described the return of the antiquities as the best birthday gifts he had ever received.
The Oba, however, urged the other descendants of soldiers who fought in Benin and still kept the objects in their homes to emulate Walker's friendly gesture and return the objects in their possession.
Walker, who expressed delight that the cultural antiquities were returned to their place of origin, noted that he was thankful to the traditional ruler and people of Benin for not rebuking him on account of his grandfather's misdeed.
He said that he had persuaded his grandmother to take custody of the artefacts so that he could trace their root and return them to the rightful owners.
'I was very pleased to have them in my possession because they reminded me of my parents.
'But when I realised that my children were not interested in the bronze works, I knew I had to protect their future,' Walker noted.
He said that it was through information about Benin bronze on the Internet that he discovered the website of the Richard Lander Society, operated by Steve Sunstone, which connected him with the original owner of the antiquities.
'On that website is a brief history of Benin and a passionate plea for the return of the bronzes. So, I contacted Mr. Sunstone and he very kindly put into effect a lot of work by himself and his colleagues who arranged for visits to the Nigerian High Commission in London and made contact with the royal household here,' he said.