Boko Haram Kills Many In Adamawa And Borno Communities On Thursday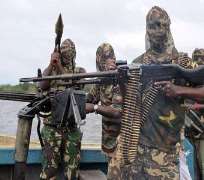 No fewer than 8 communities and villages bordering Cameroon Republi c in Gwoza and Askira- Uba Local Government Areas of Borno state and Madagali, the headquarters of Gulak Local Government Area of Adamawa state were on Thursday attacked and completely sacked by some suspected Boko Haram terrorists who laid separate ambushes, leaving scores dead while several others were injured and displacement and are seeking refuge in the bush.
Our Correspondent gathered that the insurgents who had separated themselves into groups stormed
Yaza, kirshinga, Kwargulam, kuda, shuwari bayan kogi of Madagali in Adamawa state and some remote villages near Lassa in Askira -uba at about 2pm.
Many residents were killed including old , young and teenagers before setting ablaze houses, churches, shops, vehicles after carting away food stuffs and hard earned money belonging to the poor residents.
A resident of Kirshinga told our Correspondent on phone that about 20 suspected terrorists invaded Kirshinga Market on Thursday at about 2pm and opened fire on traders and customers killing many of them, before setting ablaze shops and vehicles loaded with grains among others.
He added that immediately after the attack, many residents who were lucky to have escaped from the scene scampered for safety in the bush.
Also , an unanimous resident of Maiduguri whose wife hail from Yaza village in Adamawa told our Correspondent that 'my wife received a message that some suspected insurgents invaded their community on Thursday afternoon and killed many people setting ablaze of the entire village, but luckily her parents were able to escape unhurt but their houses and belonging were destroyed.
All efforts to confirm from the Borno state Police Cimmissioner, Mr. Tanko Lawal or his Public Relations Officer, DSP Gideon Jubrin was not successful as their phone lines were not reachable.