On The Appointment Of Alhaji Bamanga Tukur, Con As Ambassador-At-Large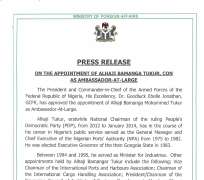 The President and Commander-in-Chief of the Armed Forces of the Federal Republic of Nigeria, His Excellency, Dr. Goodluck Ebelle Jonathan, GCFR, has approved the appointment of Alhaji Bamanga Mohammed Tukur as Ambassador-At-Large.
Alhaji Tukur, erstwhile National Chairman of the ruling People's Democratic Party (PDP), from 2012 to January 2014, has in the course of his career in Nigeria's public service served as the General Manager and Chief Executive of the Nigerian Ports' Authority (NPA) from 1975 to 1982. He was elected Executive Governor of the then Gongola State in 1983.
Between 1994 and 1995, he served as Minister for Industries. Other appointments held by Alhaji Bamangar Tukur include the following; Vice Chairman of the International Ports and Harbours Association; Chairman of the International Cargo Handling Association; President/Chairman of the Governing Council of Institute of Business Development; Member, Ghana Investors Advisory Council; Member, Presidential Council on Investment of the Republic of Benin in February, 2007; and Member of the Presidential Advisory Council in 2010. He currently, is the Chairman of the Board of Directors of Nigerian Railway Corporation.
In recognition of His Excellency's achievements in various fields of human endeavour, he was conferred with the following National honours;
Commander of the Order of the Niger - CON; Commander of the Order of the Niger of Cote d' Ivoire; and Commander of the Order of the Mono of
Togo. Among other academic achievements, Alhaji Tukur holds a Master's Degree in Public and International Affairs from the University of Pittsburgh - 1965; Doctorate Degree of Business Administration (DBA) conferred on him in 2007 by Ladoke Akintola University, Ogbomosho (Honoris Causa); Doctor of Law conferred on him in 2004 by Benue State University, Makurdi (Honoris Causa).
He holds the traditional title of Tafidan Adamawa, amongst many other traditional titles within and outside Nigeria.
An Ambassador-at-Large is an Envoy who is assigned Special Duties, by the President.

PUBLIC COMMUNICATIONS DIVISION
MINISTRY OF FOREIGN AFFAIRS,
TAFAWA BALEWA HOUSE,
ABUJA.

16TH June, 2014
TUKUR BAMANGA 001
TUKUR BAMANGA 002