Anambra House want Akunyili immortalised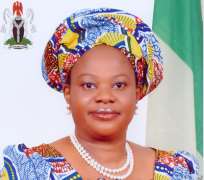 Anambra State House of Assembly and women of the state have called on both federal and state governments to immortalize the late former Minister of Information and Communications, Prof. Dora Akunyili.
In a unanimous resolution at the plenary session of the Assembly, the lawmakers spoke glowingly of the late amazon ,who was also the Senatorial candidate of the All Progressives Grand Alliance (APGA) in the last national elections for Anambra Central Senatorial District where she lost to the former Governor of the state, Senator Chris Ngige.
The resolution followed a motion moved by the member representing Anaocha I constituency, Hon. Ebele Ejiofor and seconded by Hon. Val. Anyika, member representing Njikoka I constituency.Ejiofor, who read Professor Dora Akunyili's biography, extolled her sense of prudence in the service of the nation, more especially when she returned the money meant for her medical treatment while at the defunct Petroleum Trust Fund (PTF).
He said that Akunyili was an internationally renowned pharmacist, erudite scholar, seasoned administrator and a visionary leader, who championed the national re-branding campaign titled 'Nigeria: Good People, Great Nation.'
Hon. Anyika, in supporting the motion said that late Professor Akunyili was a woman of credibility and integrity, recalling all her exploits  while at NAFDAC, and as a minister of the Federal Republic of Nigeria.
The Minority Leader, Hon. Tony Oneweek Muonagor (APC Idemili North) in supporting the motion said, 'In Akunyili's case, it was proved that honesty pays. Her honest life shot her to limelight during Obasanjo's regime.''