We don't bleach our skin -Aneke twins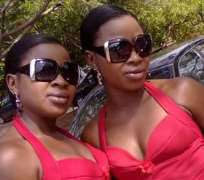 Identical twins actresses, Chidinma and Chidebere have been under fire since they released their new pictures online.
Because they look hot in the pictures, the twins probably expected their fans to bathe them with compliments.
But the reverse was the case as so many people lambasted and criticised them, accusing them of using skin whitening cream.
But reacting to the accusation to Saturday Beats on the phone, the actresses claimed they have never seen bleaching cream, let alone use one.
Chidiebere said, 'I can't bleach. There was a white background where we took the pictures. Apparently, they reflected on the pictures and sort of lightened our skin. Black is a beautiful colour,' she said.
In agreement with her twin sister, Chidinma said, 'I have been using the same cream for the past eight years and it is not a bleaching cream. We hardly walk in the sun. Perhaps that is why our skin glows. I don't bleach and my sister doesn't bleach either.'