Kim Kardashian unwinds on second honeymoon in Mexico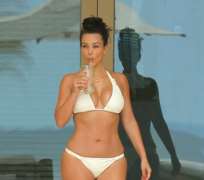 Life for Kim Kardashian and Kanye West is one big, long honeymoon.
After the couple's whirlwind wedding tour through Europe and a mini-moon in Ireland and Prague, the newlyweds are now south of the border, in Punta Mita, Mexico, continuing the festivities.
Kim, 33, was photographed poolside in a white string bikini at the private home where they're spending their time. Showing off her Atkins Diet success, she strode around in the Tara Matthews swimsuit, which retails for $257, carrying a drink, and later, her laptop. She then set up shop on a chaise lounge next to her new husband, where she relaxed and, at one point, used her computer.
While the place they are staying has not been confirmed, based on proximity and the photos, it appears likely they are at Casa Aramara, a 5-star private residence owned by Girls Gone Wild founder Joe Francis, a guest at their wedding. Kim and Kanye have stayed there before along with other Kardashians and Jenners. And so have many other famous folks, including several celeb couples from Jennifer Aniston and John Mayer to Ashton Kutcher and Demi Moore.
Casa Aramara has more than anything two A-listers could want: their own private beach, a 15-person staff, two 5-star chefs, a 20-person movie theater, spa services on the property, and a state of the art fitness center In fact, in every room there is a button you can press labeled "anything" to get "anything you can think of, anytime you want it."
The pair, who seem to be without their nearly 1-year-old daughter North West, are also celebrating Kanye's 37th birthday, which was Sunday.
As they unwind, they no doubt are also recapping the lavish affair that was their over-the-top wedding. On Wednesday, they released more photos from the celebration, including a shot of them with North , which she captioned, "My everything." Yahoo celebritry