I am proud of Ajegunle public schools- Hon. Adeogun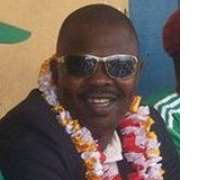 Hon. Adewale Adeogun is the newly elected Chairman of the National Association of Education Secretaries in Nigeria, Lagos State chapter. He is also the present Ajeromi- Ifelodun Education Secretary (ES) and who has received over 50 meritorious awards both national and international. He has also received chieftaincy titles across the three major ethnic groups in Nigeria and remains one of the sought after educationist, sports administrator and political analyst in Nigeria with cerebral reliability. He recently embarked on International conference and also promised to write a book. He has attended many seminars and conferences on education with his head teachers in Ajeromi- Ifelodun LGA. He is a staunch member of the APC in Lagos State. He was recently added as the Mindset Media Hall of Fame Leaders, Innovators and Entrepreneurs 2014/2015 and Mindset Media Limited. In this special interview with Godday Odidi, he spoke on why he was elected as the new Chairman of the National Association Education Secretaries of Nigeria, Lagos State chapter and other related issues affecting the education sector in Nigeria.
Excerpts:
Can you tell us why you were elected as a new Chairman of the National Association Education Secretaries of Nigeria, Lagos State chapter?
I don't want to blow my own trumpet; the records are there for everybody to see. I was ecstatic when I was elected as the chairman, though; I am a member of the union. I have spent four years as an Education Secretary of Ajeromi- Ifelodun LGA. When I assumed as the education secretary of Ajeromi- Ifelodun, It was in sorry state, until I initiated several programmes in my office to prove my critics wrong that a young person can perform better in life if given opportunity to lead like me.
What is the secret of your many meritorious awards in Nigeria and abroad?
The secret is hardworking and passion for the job. I have told you many a time that teaching is my passion. People appreciate what I do in life. I hardly sleep at night. I spent my time wisely pursuing my passion in life. Since I took over as the Education Secretary of Ajeromi- Ifelodun, Ajegunle public schools that used to be number 18th in Lagos State is now the best and even won a presidential award from President Goodluck Jonathan of the Federal Republic of Nigeria that indicated that we have worked hard. My head teachers and teachers must be commended for their support to see that my leadership comes to limelight in my four years of leadership in the local government. I did not appoint myself; it is the people within the local government that considered me worthy to lead them. In fact Ajegunle public schools have received several awards while we are preparing to present the presidential award to the Lagos State House of Assembly. If we can have schools in Ikoyi, Ikeja, Lekki and others, Ajegunle can emerged the best among all the schools, then we are working hard. It was on Thursday April 24th 2014 when I was elected as the new chairman of National Association Education Secretaries of Nigeria, Lagos State chapter. Today we have fish ponds, computer centres, libraries and school gardens for Ajegunle public schools. UNICEF has also handled over #9 million equipment to me for Ajegunle public schools. We will continue to be at the top in Nigeria because we have reformed educational facilities in Lagos State. We have the learning ability and package in our schools. You can see the large enrolment of pupils from private schools to public schools in Ajegunle. We have standard educational system from 0-5 above and what have you? If out of the 36 states in Nigeria, Ajegunle School could emerge the best, then the Lagos State governor and the two local government chairmen must be commended for their supports. The learning and the teaching ability can be traced to our modern infrastructures in our schools. Most schools in Nigeria teach their students' school farms on board while here we teach them on practical to see. By 8am every school day our pupils are already in their classes learning. The school that won the presidential award in Ajegunle was the school attended by the former deputy governor of Lagos State, Mrs. Sarah Sosan.
Do you consider yourself appointed again as the Education Secretary of Ajeromi- Ifelodun after five years tenure? I have just spent four years now. I would not determine my re-appointment. If those that considered me worthy to go again, then I will go. It is the passion that keeps me driving in life. Better still, they can post me to other place. Nigeria will be good if we put the round peg in the round hole that is if rightful people will be put into leadership position in Nigeria. Though it is a political appointment, I can tell you the parents, teachers and the community are happy about the innovative development in Ajegunle public schools. I will be travelling to Port Novo as a delegate to learn about child Care Development through UNICEF. I attended one in Ibadan recently.
At least one year from now, what will be your legacy if not re-appointed?
If you fail to plan and you plan to fail. I don't postpone my plans for tomorrow to be done today. I always thank God for my waking up everyday. It is my passion that keeps me growing in life. You must cross your eye and dot the teeth. Hardwork and passion brings success to one's life.