Jonathan meets Fayose, Omisore behind closed doors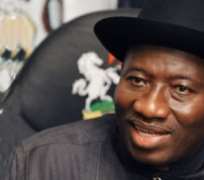 President Goodluck Jonathan on Tuesday met behind closed-doors for more than one hour with the governorship candidates of the Peoples Democratic Party in Ekiti and Osun States, Ayodele Fayose and Iyiola Omisore.

The agenda of the meeting which was held inside the Presidential Villa, Abuja was was not clear but a source said told our correspondent that their discussion centered on their level of preparations for the forthcoming governorship elections in their respective states.

Fayose later told State House correspondents that the Sunday bloody incident in Ado Ekiti came up for discussion during the meeting.

'What happened on Sunday was that APC supporters went about sweeping the feet of the President who on Saturday led PDP bigwigs to a mega rally in Ado-Ekiti. I don't even have any objection to that because that is part of politics.

'There are some of my supporters who always sleep over in my campaign office. These people wearing my branded green T-shirts were returning home and the APC people accosted them.

'They macheted some of my supporters and even killed one of them. They were at the point of removing the deceased's branded T-shirt and replacing it with APC shirt when the OC MOPOL arrived the scene.

'As he was trying to stop them, Fayemi drove in to block him. It was when they wanted to mob the police officer that he shot teargas into the air,' he said.

Fayose said that despite attacks, his supporters would not be deterred and are still fully mobilised to vote for him in the forthcoming election.