I Had It From God To Raise Leaders—Pastor Ifeanyi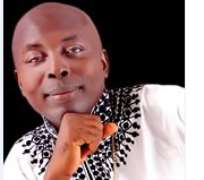 Pastor Ifeanyi Oluebube Jesus is the President of Achieve Success , a publishing and motivational outfit and he also pastors Wisdom Christian Centre (WCC) in Lagos, a church with the vision to help ordinary people achieve extraordinary successes in Life. He has written two creative and innovative books on 'The laws of Answered prayer and the Force of Faith'. He is one of the fast- growing motivational speakers in Ajeromi- Ifelodun Local Government Area of Lagos State with intellectual integrity, who believes that living in the slum cannot prevent someone from excelling in his or her career.
He is a revolutionary writer and a prophet of God to the core.He is one man of God in Ajegunle that is admitted to speak to all the police officers in their stations without hesitation. In this exclusive interview with Godday Odidi, he spoke on the need to embrace entrepreneurial leadership than just an ordinary employee with just limited future and why Achieve Success is gaining leadership ground in the local government and other salient issues affecting the country.

Excerpts:
Can we meet you sir?
I am the President of the Achieve Success International, a publishing and motivational outfit and also pastors Wisdom Christian Centre. I am from Imo State. I attended Pastor Adeyemi Daystar Leadership Academy and Bishop David Oyedepo School too. I also had other educational qualifications from other recognised institutions in Nigeria. I also manage a reputable private school from nursery to junior secondary school in Ifelodun LCDA. I have written two wonderful books through the divine pen of God as 'The laws of Answered prayer and the Force of Faith' which are in the market presently.
When did Achieve Success start?
Achieve Success was borne out of passion in 2008 with the aim to raise and sustain the morale, strength and capability of human spirit in an economic and social environment that has done all to challenge the realization of even the brightest potentialities. Its programme explores the time proven laws of success and reconciles them to prevailing social and economic realities. Achieve Success in Leadership Conference (SILC) is a yearly programme for heads of churches, Government institutions, businessmen and women, students, teachers, youths and interested knowledge seekers.
Apart from Achieve Success Conference/ seminars Achieve Success publications and Achieve Success TV and Radio and will also run leadership academy where we train people on personal transformation, entrepreneurship, success habits, project management, mind dynamics, leadership development, problem solving and national development with accredited certificate with highly trained facilitators who are resourceful in all human disciplines.
What is your own concept of leadership?
Leaders are not born but they are made. I belong to leaders that are made. Leadership is all about service to the people which Achieve Success International is doing in Ajeromi- Ifelodun Local Government Area of Lagos State.
What is your major calling?
A wise man once says that 'the greatest secret, there is no secret '. I had it clearly from God to raise creative leaders for God and other leadership positions which I am presently doing here in Ajegunle. God has been faithful to me since I embarked on this spiritual journey of leadership over the years. My mission is to raise successful people on earth. I also believe that if you an entrepreneur if you die, your income continues because you have laid a solid foundation of entrepreneurship but if you an employee, if you die, your income stops.
Apart from Achieving Success in Leadership Conference and others, you also run a school and publish Amazing stories magazine, How do you cope with it?
God is my strength not man. I have every timetable for every assignment given to me by God. So God is doing greater things in my life and with an understanding wife given to me by God too who interprets my vision perfectly.
What is the secret of your success so far?
I have not made success yet but we have improved from the level we were before. Success is a continuous progress on one's calling and nothing else. I also believe that success is amount of people you have affected in life not money. Achieve Success has trained a lot of people who are graciously testifying on quality of leadership received in our leadership academy. We train both old and young leaders to succeed in life and others. I believe on entrepreneurship leadership not an employee.
What is your major challenge of running a leadership academy in a slum city of Ajegunle?
You know vividly that Ajegunle is tagged as social miscreant environment most especially Amukoko area of Ifelodun LCDA where miscreants are increasing on daily basis but our amiable chairman, Hon. Fatai Ajidagba of Ifelodun LCDA has creatively reduced poverty from the area within three years in office where normalcy has since returned to the area. Our challenge is that we want a permanent leadership academy faculty not rented one again that will occupy our vocational centre lecture rooms and well -equipped library, A Toyota coaster diesel, 30 seats bus for mobility and will want some of our Achieve Success pastors to go to Jerusalem pilgrimage every year. Hon. Ajidagba has promised one slot for us this year.
Why Achieve Success gave Hon. Fatai Ajidagba Excellence Award?
Hon, Fatai Ajidagba is a history making local government chairman in Nigeria. He has done what others have not done since the creation of Ajeromi-Ifelodun LGA since 1996. He is the peoples' chairman and answerable to the people. The excellence award to push him to do more in IfelodunLCDA and nothing more.
You run this leadership academy free in Ifelodun LCDA, how do you get sponsors?
With God all things are possible. My target is youth in this our slum city. I want to see that all unemployed youths are fully engaged. God has been our general sponsors. My target next year of SILC is to bring the likes of Ajidagba, Adenekan, Balogun, Kamal, HKT and others and to use Ajeromi- Ifelodun hall and later national stadium too.
Can you tell us some of your supporters in this your leadership conference over the years?
Thank you very much my brother, If don't mention my people, then it means I am an enemy of progress in life. The likes of Austin Adinnu, Gilbert Mbaka, Dr. Uzo Onyemkara, Barr. David O, Rev Chris Ajuluckwu and others have contributed to the growth of this noble conference. They are part and parcel of the light of SILC in Ifelodun LCDA.
What is your advice for young entrepreneurs in Nigeria?
They should remain steadfast in their passion and nothing more.