Military foils Boko Haram attack, kills 50 insurgents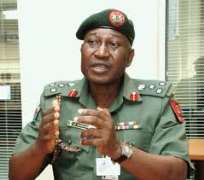 The Nigerian military said Monday it foiled a planned raid by terrorists on border communities between Borno and Adamawa states.
According to the military, 50 terrorists were killed during the incident, which occurred on Saturday.
The Director of Defence Information, Chris Olukolade, in a statement, said the terrorists were on their way to attack selected communities when they were ambushed by troops along Bilta, Borno State after they got an intelligence report.
The attack, he explained, was launched on the terrorists as they filed out of the forest to embark on their mission at about 10 p.m. on Saturday.
He said four soldiers were wounded in the operation and are currently receiving medical treatment in the military medical facility.
According to the military spokesman, 30 rifles, 36 hand grenades, seven machine guns, and 11 rocket propelled grenade tubes were captured by the troops.
Other weapons recovered include: over 3,500 rounds of ammunition, six smoke grenade canisters and locally fabricated guns and four vehicles used by the terrorists.
The Rainbow