New Kano Emir gets appointment letter, staff of office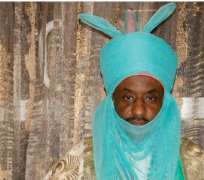 Kano State Governor Rabiu Musa Kwankwaso on Monday issued a letter of appointment to the new Emir of Kano, His Royal Highness, Malam Sanusi Lamido Sanusi.
In his remarks at the ceremony held at Africa House, Government House, Kano, Governor Kwankwaso said the appointment of the new emir was based on his wealth of experience, commitment and by virtue of inheritance to the throne.
Governor Kwankwaso disclosed that the appointment of Sanusi Lamido as the new Kano Emir was not on political grounds.
According to him, Sanusi Lamido's name was among the earlier list submitted by the king makers as against the rumour that his name was smuggled in by the governor.
Governor Kwankwaso stated that all the six contenders of the throne were good friends of him and they all deserved to succeed the late emir Bayero, but one person had to emerge.
Kwankwaso urged the new emir to tread the late Bayero's family with humility, respect and to take everyone as his mothers, brothers and sisters.
He disclosed that the state government has built houses at Sharada quarters in metropolitan Kano for the relocation of members of the late Bayero, adding that the state government would embark on the renovation of the palace.
In his remarks, His Highness, the Emir of Kano, Malam Sanusi Lamido Sanusi, gave gratitude to Allah who made him the 57th Emir of Kano and the successor of late Bayero.
He called on the people of Kano to be calm, peaceful and shun all forms of violence, saying he wasn't chosen because he was the best among the contenders, but it was the will of Allah that he was made the Emir of Kano.
'I was closer to late Emir Bayero than I was to my father. My first wife of twenty years is Bayero's daughter. I grew up under his care and shared bed with the Turakin Kano, Nasiru Ado Bayero for ten years,' he added.
Sanusi Lamido called on the peace-loving people of Kano not to allow outsiders to use them to destroy their home state.
Shortly after the new emir received his letter of appointment, the royal fathers present bowed before him to indicate their acceptance and respect.
They include Makama, Madawaki, Sarkin Bai, Sarkin Dawaki Mai Tuta, Jarma, Wambai, Dan Isa, Dan-kadai, Sarkin Fulanin Jaidinawa, Dallatun Kano, Bauran Kano, Sarkin Rano-Autan Bawo, Zannan Kano, Madakin Galadima, Durbin Kano and Walin Kano.