BOTH SIDES SAY THEY ARE WINNING IN BA STRIKE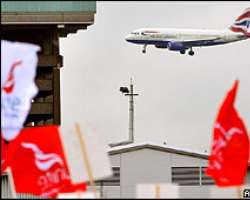 The strike by British Airways cabin crew has entered its second day, with both sides claiming the advantage.
The Unite trade union said half of BA's 250 planes had been grounded on the first day of the three-day stoppage.
But BA says it reinstated flights as so many worked, adding that 97% of cabin crew due to show up at Gatwick did so on Saturday, as did half at Heathrow.
The dispute centres on job cuts and a pay freeze. Another four-day stoppage is planned to begin on 27 March.
Unite insisted 80% of its 12,000 members had supported the first day of the walkout – the first by BA cabin crew in 13 years.
The union said BA's Terminal 5 at Heathrow was like a "ghost town", adding that scores of planes had been grounded and the airline contingency plans were failing.
Speaking on the second day of the strike, Unite's Brian Boyd said: "We are holding firm."
He went on: "We want a resolution to this dispute but we have been forced into a position where today, and tomorrow, we are going to continue with industrial action."
But, when asked about options after the strike, he said it was "in the best interests of both the company and its employees" to hold talks to avert further industrial action.
BA has described the union's claims about the strike's effect as "rubbish", and said it had reinstated some long-haul flights this weekend because more staff had worked, including services to Miami, Los Angeles, Tel Aviv, New York JFK and Cape Town.
The airline said it was reinstating eight cancelled long haul flights from Heathrow, as well as 18 short haul services from Heathrow and Gatwick this weekend.
BA said its contingency plans for the first day of the strike went "extremely well" and it was able to reinstate more flights because more cabin crew had turned up at Heathrow.
"Cabin crew are continuing to report as normal at Gatwick and the numbers reporting at Heathrow are above the levels we needed to operate our published schedule," said a spokeswoman for the airline.
'Management bullying'
BA said more than 65% of passengers would reach their destinations, with 1,157 staff working and some cancelled flights reinstated.
The airline said it was confident that it could handle 49,000 passengers on each of Saturday and Sunday, compared with about 75,000 on a normal weekend day in March.
Many flights are operating because BA has hired in aircraft and crew from other carriers.
The company is advising customers to check the BA website to find out what extra flights will now be operating.
At the start of the strike it said 65% of passengers would be able to reach their destinations, despite 1,100 BA flights out of the 1,950 scheduled being cancelled.
BBC business correspondent Joe Lynam said that, with a week's notice to plan their journey, very few passengers turned up shocked to find that their flight had been cancelled.
Former BA cabin crew manager Jamie Bowden said most of the check-in staff at Terminal 5 were working without any disruptions.
Unite said a number of aircraft had been parked at Heathrow, due to the number of cancellations.
A spokesman said: "The support we are getting shows how strongly people feel about this and is in spite of the bullying by management."
At Gatwick, all long-haul flights and more than half of short-haul flights were expected to operate as normal this weekend, along with more than 60% of long-haul flights and 30% of short-haul flights at Heathrow.
'Damaged' brand
In a video message on the BA website, chief executive Willie Walsh apologised to passengers for a "terrible day" and said he was confident a "good service" would be provided.
About 200 union members attended a rally at Bedfont Football Club, near Heathrow, where Unite assistant general secretary Len McCluskey said the "intransigent management" at BA could be "defeated".
Although the effect of the strike is being disputed, brand strategist Simon Middleton told BBC News the strike is set to be "enormously damaging" for BA's image and likely to put people off flying with the airline.
"It is renowned for quality – for service in particular. This kind of strike can only damage that," he said.
However, he added that Unite's image is also likely to have been tainted, which meant "nobody has gained".
BA has been in negotiations with Unite for many months.
Workers are particularly angry that last November BA reduced the number of crew on long-haul flights and is introducing a two-year pay freeze from 2010.
The airline also proposed new contracts with lower pay for fresh recruits.
Unite says it accepts the need for BA to cut costs but that it was not consulted on the changes.
BA suffered a loss before tax of £342m for the nine months to the end of December 2009 and says it needs to cut costs in order to survive.