Imo Journalists Dis-Own Kenneth Uwadi Over Allegation Against Jude Ejiogu
Re: How Jude Ejiogu Looted N1 Billion Imo LGA Pension Funds: Who Is Kenneth Uwadi?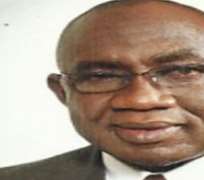 When I saw this catchy and serious caption on the internet, I didn't hesitate to read it because, as a social critic and member of the fourth estate of the realm whose duty is to inform the public and who also has the professional and moral justification to watch over the society.
I thought, I have had a heavy heart pounding, pulsating and mind blowing story that would not only market my medium but would also enliven my record as one of the best crime and investigative reporter in Nigerian who always report it the way it happens without minding whose ox is gored.
When I read through the story with anxiety my moral debased because the story lacks the condiments of a good news or article. I say this because of the heaviness of the allegation; I also say this because I have severally read write-ups from the author of the afore-said article, Mr. Kenneth Uwadi who said he writes from Mmahu in Ohaji/Egbema local government area of Imo State.
Surfice me to say that I am not responding to his article because of who is involved or who he accused of looting.
I decided to respond to the said article because his allegation lacks merit and also because there is an urgent need to protect our dear noble profession which is the envy of all and which is near collapsing because of the activities of infiltrators who claim to be journalists when they are not and who always write jargon devoid of the ethics of journalism and its practices.
I have discovered that Kenneth Uwadi is a faceless human being who hides under the clove of internet and dish out unfathomable nonsense full of lies to Imo people.
Uwadi accused Jude Ejiogu of looting on billion naira Imo LGA pension funds. Honestly, I am not interested in his allegation or who he accused but I write to make a point that Uwadi is not a journalist as he claimed to be.
In Journalism, truth is sacred and is not tampered with. Also the source of your information determines the credibility of your information hence, any journalist who writes without having a source is not a good journalist.
Also, a journalist may write a story with a pen name (a name that is not his real name) but not in such a serious allegation that is not backed with facts.
I want to state emphatically also that Uwadi's allegation if proved to be correct would have earned him laurel and respect especially, among the pen-pushers for his ability to carry out proper investigative journalism which is the most difficult aspect of the profession as it always unearths the hidden truth, thereby help in curbing corruption in our society, then I wonder why he should hide and write if he is factual.
As I said earlier, I have severally read Uwadi's article and have discovered that his trade in stock is to attack politicians, accusing them of one allegation or the other while claiming fake address. I am a bonafide member of the NUJ and a practicing Journalist in the state and could say that I know all the Journalists practicing in the state except Uwadi and all my colleagues in the state including the NUJ Chairman do not know Uwadi, then how does he claim to be a Journalist in the state?
My worry is the dignity of the profession and not his allegation nor whom he accused. I seize this medium to warn Uwadi and his likes to stop dragging our amiable and respectable profession to the cleaners because journalism is not a tool or vehicle neither for castigating people nor to batter people's character for personal aggrandizement.
Please, you people should leave this profession alone but if you want to practice journalism, go back to school so you will be tutored the rudiments of journalism because the ability to write a story does not make you a journalist. When you pass through the school of journalism, you will know that journalism is a social service that tends to develop, unite and rebuild both individuals and the state at large.
Once again, Uwadi is not a journalist but a faceless being who hides behind the spuriousness of the internet to give wrong and unfactual information. In the multiple of your obnoxious deeds, Uwadi and your misinformation don't claim to be a journalist because you are not one and does not write like one.
IYKE NDUMELE of the Nigerian Horn Newspapers (08125625313, SMS Only)