Nigerian army, US counterparts to shut up on information about counter-insurgency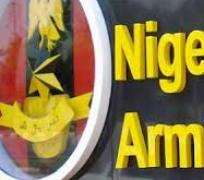 The Nigerian military high command has met with the leadership of the United States interdisciplinary team for assistance to Nigeria and have agreed to stop disclosing operational information on the counter-insurgency activities of the military.
A statement issued on Friday in Abuja by Chief of Defence Information, Major General Chris Olukolade, said that a major highlight of the meeting was a decision not to pressure Nigeria into disclosing operational information on efforts to locate the abducted Chibok girls.
It added that while discussing the process in the collaborative efforts to recover the girls, it was resolved that subsequent phases of the efforts will feature continuous engagement among the partners.
Quoting the Coordinator of the National Information Centre (NIC), Mr. Mike Omeri, the statement said: 'There is the need for Nigerians, particularly the media, to recognise the fact that the process of rescue could be hard and time-consuming, particularly when both partners have agreed the issue of force is not often the priority.
'The Nigerian military will continue to do its best. We do not intend to resign our commission; we will keep doing our duty as a matter of duty to fatherland and be assured that someday, with the cooperation of Nigerians, we should get to where we all desire, he explained.
Signature : APA