First Son Of Late Ado Bayero, Ciroman Kano, Emerges New Emir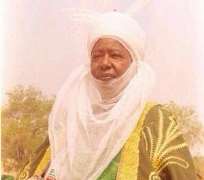 The first son of the late Emir, Alhaji Ado Bayero, in the person of Ciroman Kano, Alhaji Sanusi Ado Bayero has emerged as the new Emir of Kano.
The selection of the new Emir was believed to have been concluded by the Kingmakers in the early hours of today.
Earlier, one of the strongest contenders to the throne and former governor of the Central Bank of Nigeria (CBN), Sanusi Lamido Sanusi had announced the name of the new Emir on his Twitter page.
He tweeted: 'Sunusi Ado Bayero (Ciroman Kano) has been selected as the new Emir of Kano. Announcement to be made later.'
Alhaji Sanusi Lamido Ado Bayero, the Crown Prince was born on the 1st of April, 1956 into the royal family of Alhaji (Dr.) Abdullahi Ado Bayero. He is the product of the marriage between Emir and his uncle's daughter which made him to be the eldest son and the first child of Alhaji (Dr.) Abdulahi Ado Bayero â€' Emir of Kano State. He was given birth to in Filin Chiranchi area (where his father â€' Emir of Kano stayed before becoming the Emir) and that same house happens to be his official residence. Alhaji Sanusi Ado Bayero enjoys every minute he stays in that house and always feels at home there more than in the palace. The young Ado Bayero attended Rano boarding Primary school, Kano between 1963 â€' 1969 where he had his First School Leaving Certificate after which he proceded to Rumfa College, Kano from 1969 â€' 1973 and later went to Government College, Birin Kudu from 1973 -1975 where he had his Ordinary Levels Certificate (O' Level Certificate). His interest to be a global person made him to be among the only 3 students that took french as a subject and even wrote it in WAEC Exams. He was not satisfied with that, he proceded to a Diploma class for a Diploma in French from Ecole International De La Langue Francoise, Paris in 1976 to 1979 which he now speaks fluently. He furthered his educational Career in College of Arts & science to obtain A' level Certificate between 1975 â€' 1976. The studious Alhaji Sanusi Lamido Ado Bayero bagged a Diploma in Law in the year 1977 â€' 1979 from the Institute of Administration Kongo, Zaria before going to Ahmadu Bello University for his Bachelor's Degree in Law (BL) which he did between 1979 -1983 and was finally called to bar in 1984 after diligent, dedicated and strong determination to be a Barrister. Alhaji Sanusi bayero has served in various capacity and is still serving the people of Kano State. He started his service ladder from been the Head boy of one of the oldest prestigious government college known as Birin Kudu (1975 set) â€' the school that produced the like of Late Alhaji Abubakar Rimi, Sule Lamido and the rest; represented his school in debate even right from Junior class which is unusual because Senior students represent their schools in debate because of his academic excellence to a lecturer in Kaduna Polytechnic where he did his National Youth Service (NYSC) between 1984 to 1985 before going to practice. He continued the service and dedication to his people in 1985 when he became the State Counsel to the Ministry of Justice, Gidan Murtala for 2 years and later worked with Kano state Investment and Properties as their Legal Adviser and Company Secretary between 1988 and 1989. He was the Director General of Kano State Council of Chiefs from 1991 to 1993 before he was transfered to be the head of Special Duties of Kano State Government as Director General, which he did in between 1993 and 1996. Between 1996 and 2000, he was made the Permanent Secretary to the Ministry of Information, youth and Culture and now he is currently the Chairman of City Walls and Gates which he took over in 1995. He is a director of many organizations and NGOs including R.T. Briscoe Company. His enterpreneurial spirit made him to establish Lamido & Co., a Law firm in 1986 which he is a Principal Partner. He is currently serving as the District Head of Gwale Local Govt. and a Council Member of Kano Emirate. He is also a Task Force Member of Next Generation Nigeria Covened by the British Council Nigeria. He had a good practice before he was turbanned in 1990 and since then he has been serving kano state and has this titles to show for it: Dan Ruwatan Kano, Tafidan Kano, Sarikin Dawakin Tsakargida and presently the Chiroman Kano. He likes squash, reading, travelling, farming, horse riding.