Dora Akuyili, former Minister of Information is dead --Peter Obi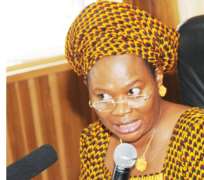 Former Minister of Information and Communications, Prof. Dora Akunyili is dead. She died this morning in India where she was receiving treatment for Cancer related ailment.
The erstwhile National Agency for Food and Drugs Administration and Control (NAFDAC) boss was flown to India on Sunday, May 11, 2014 for further treatment upon the advice of doctors treating her in Abuja where she was on a national assignment.
Her death was confirmed to our correspondent by her media adviser, Mr. Isaac Umunna, this morning. Akuyili who broke down at the on-going National Conference was first attended to by doctors in Abuja but had to travel to India on their advice for further medical attention.
According to a statement obtained by THE CITIZEN which was issued on behalf of the family by the former Governor of Ananmbra State, Mr, Peter Obi, he said Akunyili died in a Specialist Cancer Hospital in India this morning at 10 am, Nigerian time, after a two-year battle with cancer.
'In spite her illness, Prof. Akunyili was unwavering in her belief in a better Nigeria. That was why she defied her condition and was part of Anambra State Handover Committee and the National Conference.
'The last time I visited her in India, even when she needed all the prayers herself, she was full of concern for the abducted Chibok girls, security and other challenges facing the country and told me that she remained prayerful for the release of those girls and for God to help President Goodluck Jonathan to overcome all the challenges facing the Nation. She therefore urged all Nigerians to remain prayerful and committed to building a better society for our children. We all prayed together and I promised to be visiting her every month.
'We thank all those who remain fervent in prayers for her recovery and urge them to remain prayerful for the peaceful repose of her soul,' he said.
She was born in Makurdi, Benue State (Nigeria) on the 14th of July 1954 to Chief & Mrs Paul Young Edemobi. She is a devout Catholic and is happily married to Dr. J.C. Akunyili, a Medical Practitioner and they are blessed with six children and three grandchildren. Her hobbies include reading, writing, cooking and travelling. She speaks Igbo and English fluently.
Prof. Akunyili, is an internationally renowned Pharmacist, Pharmacologist, Erudite Scholar, Seasoned Administrator, and a visionary leader.
Her role in the fight against counterfeit drugs in Nigeria cannot be forgotten in a hurry when she was Director-General of the National Agency for Food and Drug Administration and Control (NAFDAC) and Federal Minister of Information and Communication.
Prof. Akunyili's educational career started with her passing the First School Leaving Certificate with Distinction in 1966, and the West African School Certificate (W.A.S.C.) with Grade I Distinction in 1973 (both in Nigeria), which earned her the Eastern Nigerian Government Post Primary Scholarship and the Federal Government of Nigeria Undergraduate Scholarship respectively. It is remarkable that throughout her high school career, Dora Akunyili was always top of her class – a record that has never been broken in the school to date.
She got her B.Pharm (Hons) in 1978 and PhD in 1985, both at the University of Nigeria Nsukka (UNN). Prof. Akunyili won the best student award in the school of Pharmacy in her very first year in the school and the Vice Chancellor's Postgraduate and Research Leadership prize in Faculty of Pharmaceutical Sciences for 1984/85 and 1985/86 academic Sessions.
She was promoted to the rank of Professor of Pharmacology in October, 2000 by the same University.