DPR set to end sale of petrol on black market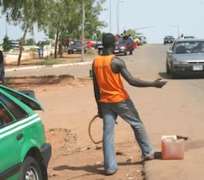 The Department of Petroleum Resources (DPR) has said that it will collaborate with relevant security agencies to dismantle black market spots where petrol is sold illegally in Abuja.
Muinat Bello-Zagi, Zonal Head of Technical Unit, told NAN in Abuja that DPR was currently working with the Nigerian Security and Civil Defence Corps to complement the agency's efforts.
She said that black market operations were negatively affecting petrol supply chain in the Federal Capital Territory and its environs.
According to her, the presence of black market operators on the streets can trigger panic buying of the product, which some unscrupulous marketers always take advantage of to rip off innocent motorists.
She said that DPR had put the necessary measures in place to make sure that oil marketers neither hoard nor sell petrol to black market operators.
Bello-Zagi, who expressed concern over the activities of the black marketers in Abuja, said that the agency was ready to end their activities.
She said that the agency had intensified its monitoring activities to ensure availability of petroleum products in the city.
Bello-Zagi said that DPR would also take the necessary steps to always ensure that products were sold to the public at the approved pump price.
According to her, the department has been conducting physical checks on petrol stations in the zone to ascertain availability of the products and check incidents of hoarding, diversion and sharp practices by dealers.
She warned marketers not to indulge in sharp practices as the agency would prosecute offenders.