New CBN governor, Emefiele, briefs Jonathan ahead of unveiling of agenga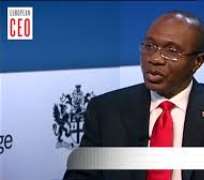 The new governor of the Central Bank of Nigeria, Godwin Emefiele met with President Jonathan for about an hour at the State House on Wednesday.
It was not clear what they discussed at the meeting but there were speculations to the effect that he had gone to the President to brif him on some of the major changes he would be bringing about in the financial system.
Mr Emefiele who resumed as the CBN governor monday is said he would unveil his agenda as the new CBN helmsman on Thursday (today).
When approached by state House correspondents, Emefiele declined comment, pleading that he would unveil his blueprint as the CBN governor Thursday.
n
The preceding governors of the bank had introduced fundamental changes in the financial system in the first few weeks of their administration.
n
The former Zenith Bank boss is said to be a stickler for professionalism in banking and is likely to introduce measures that would make the banks stronger and better respected, while reining in inflation and exchange rates.