AKS POWER STAKEHOLDERS EXPRESS CONCERN ABOUT PHEDC OPERATIONS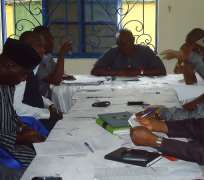 Even though Akwa Ibom State has all the building blocks for steady power supply, it appears that poor operation and inadequate maintenance of distribution assets continue to stall steady power supply across the State.
This was revealed by power sector Stakeholders in the State who made their grievances known during the operational stakeholders meeting held in May, at the office of the Senior Special Assistant to the Governor on Power.
It was disclosed that PHEDC staffs seemed to be more interested in meeting set revenue-targets than service delivery. The Stakeholders also condemned the deplorable state of distribution assets in the State which they attributed to poor maintenance overtime.
According to the Stakeholders, existence of lengthy 33kV lines without isolators is a major cause of power outage in some parts of the State. It was also observed that many transformer substations in the State have been overgrown with grasses.
The power sector experts condemned PHEDC's claim that materials for faults replacements were only available at the Head quarters in Port Harcourt. The implication is that for urgent intervention, communities are made to contribute for replacement or repair while PHEDC bills the community without adequate consideration for their contribution.
According to the Stakeholders, Akwa Ibom State Government has invested enormously in the power sector but PHEDC is reaping the benefits of government investments without taking responsibility. They expressed that Akwa Ibom is being taken for granted by PHEDC.
While responding to the issue, the SSA to the Governor on Power, Dr. Victor Udo said "His Excellency had foresight of this problem that was the reason he pushed for the delineation of distribution companies along State lines."
He said "if distribution assets are operated as envisioned by His Excellency, they will be more effectively managed and government objectives will be easily accomplished." The SSA said it is "double jeopardy" when the community contributes to repair an infrastructure and they are subsequently billed without adequate consideration for their contribution by PHEDC.
He added that "it is the responsibility of a service provider to maintain its infrastructure, therefore if anyone contributes to the maintenance of the infrastructure, a discount should be given."
Dr. Udo concluded by saying "as an investor in 4-Power, the government may receive dividend if PHEDC makes profit but the real purpose of government investment is not primarily profit-making but to ensure steady power supply across the state."