Okonjo-Iweala to govs: Account for your allocations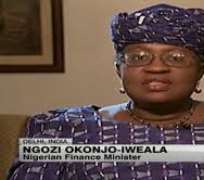 The Coordinating Minister for Economy and Minister of Finance, Dr. Ngozi Okonjo-Iweala, on Sunday challenged state governors to justify what they do with the huge allocations they receive regularly from the Federal Government.
She said that many of the states in the country receive allocations that are more than the annual budget of some neigbouring countries to Nigeria and yet have nothing to show for it..
The minister, who spoke at Ilishan-Remo, Ogun State, while delivering the Babcock University's convocation lecture entitled: 'Transforming Nigeria's economy: Opportunities and challenges,' urged Nigerians to be sensitive to the kind of leaders they elect.
Okonjo-Iweala was awarded the university's honorary degree, an honour shared with the Executive Producer of Moments with Mo on Ebony Live TV, Mo Abudu.
According to the finance minister, the governors have no reason not to develop their states, given the huge amounts they regularly got from Federation Account.
It is high time Nigerians held their governors accountable over the money collect on their behalf to accelerate development of their states.
She said that the constitution placed the provision of some basic public services on the concurrent list, making it the joint responsibilities of the three arms of government.
She wondered why Nigerians seldom asked what the governors were doing to develop their states.
Okonjo-Iweala said, 'Clearly, the Federal Government cannot do it alone; we need the private sector to work with us and we have reached out to them in transforming Nigeria. But, in addition to that, we should ask ourselves what is the role of the state and local governments in supporting our transformation.
She said, 'A lot of attention is turned on the Federal Government. So, we also need to ask what our states and local governments do with the resources they get.
'We need to ask more questions; poverty eradication and building of infrastructure are not only by the Federal Government. In 2013, the top 10 allocations were going to the following states: Akwa Ibom, N260bn; Rivers, N220bn; Delta N209bn; Bayelsa, N173bn; Lagos, N168bn; Kano, N140bn; Katsina, N103bn; Oyo, N100bn; Kaduna N97bn; and Borno at number 10 with N94bn.
'These were the allocations all these states got last year. The question is what did they do with the money?'
In his remarks, the President and Vice-Chancellor of the university, Prof. James Makinde, said the institution was committed to the pursuit of academic excellence.
He said that of the 1,560 graduands, 44 obtained first class from the university.
Another batch of 1,227 obtained second class upper division, while 59 candidates obtained doctorate degrees, he said.
The school dedicated the convocation to the abducted female pupils of the Government Secondary School, Chibok, Borno State.