Nigerian Men Don't Date A Woman With Complications……Artiste Kim Wonder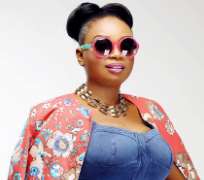 United Kingdom returnee artiste, Kim Wonder, has expressed her likeness for Nigerian men but fears the kind of attitude and mentality they have over the women.
In her opinion, she said the question mark behind this is that a Nigerian man wants to date a woman that does not have any complications in her life. They just like things to be rosy around their ladies.
Kim cited that in abroad, the men have empathy that they will listen to a woman's challenges and pains, yet they will still show that understanding and stick with the woman.
She advised that men should be able to accommodate everything about someone, because there are great people everywhere.
The British-Nigerian singer and songwriter did the remix version of her terrific single to mark her entry into the Nigerian music scene. The remix of the single titled 'There Was A Boy,' is a mid-tempo groovy number produced in South Africa and features Veezo. She is currently working with music producer Del-B on her new single which she hopes to be a hit.