Again, Akunyili's death news turns false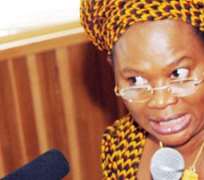 Again, rumour mill got it all wrong. Former Information Minister, Dr. Dora Akunyili is alife.
Like it has happened several times in the last two weeks, the news made the rounds on Friday that a former Minister of Information, Prof. Dora Akunyili, was dead.
But a check with the Media Advisor of Akunyili, Isaac Umunna, returned the news negative.
Akunyili, who has been ill for a while, is in India for treatment.
Umunna told The Eagle Online via the telephone that it remained what it is: a rumour.
Umunna later issued this statement: ‎ 'Please disregard the rumor going round that former Minister of Information, Prof Dora Akunyili is dead. From all indications, the rumor is baseless, mischievous and deliberately designed by those who don't wish her well. She is very much alive and responding to treatment.'
n