Amosun weeps over conditions of prisoners in Ogun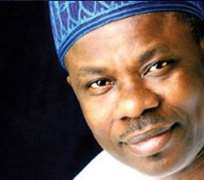 Abeokuta - Governor Ibikunle Amosun of Ogun on Thursday broke into tears at the pitiable sight of inmates at Oba prison in Abeokuta.
Amosun, who had earlier granted amnesty to 15 inmates at Ibara prison also in Abeokuta, could not hold back his emotions at Oba prison over what he described as the inhuman condition' to which the inmates were subjected.
The governor was informed that majority of the 492 inmates on awaiting trial list at the prison had spent between four and seven years in jail.
He ordered immediate medical attention for the inmates with critical medical conditions and directed that others should be taken to the hospital.
While conceding that prison services was under the control of the Federal Government, Amosun said it would be irresponsible of any leader to neglect the conditions of prison inmates.
He expressed dismay at the deplorable state of prisons saying it would not enhance rehabilitation of inmates.
- NAN