Lagos assures residents of security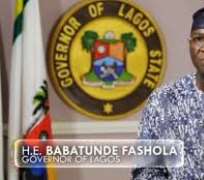 Lagos - Lagos State has assured residents of their safety in the face of rising security challenges in the country.
Speaking at a forum in Ikeja, the state governor, Babatunde Fashola, said his administration was sufficiently positioned to curb the activities of errant people in the region.
'Lagosians have no reason to fear. We acknowledge that there are bad people everywhere, but the Lagos State Government has the capacity to fight them here. The security agencies in the state are conscious and alert to their responsibilities,' he said.
He, however, called for vigilance among the people as he noted that the responsibility of securing the state was a joint one in which every citizen is concerned.
'However, we advise Lagosians to be vigilant and report all suspected persons, situations, events and objects to the security agencies,' Fashola said.
He said the possibilities of a shortage of resources did not deter the administration's efforts.
'Money for security will never be enough because the capacity of the criminals to carry out crime is constantly being upgraded, so the capacity to fight them will continue to be upgraded ahead of them. But we will ensure that whatever we have is distributed to the police and other agencies to fight crime.'
Fashola's sentiments come on the back of rising terror around the country largely attributed to the Boko Haram sect.
- CAJ News