Boko Haram Kidnaps Two Top Emirs In Borno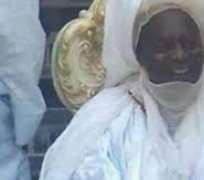 Boko Haram members have kidnapped two first class traditional rulers in Borno State, north-east Nigeria.
Premium Times reports that the victims are the Emir of Uba, Ismaila Mamza and the Emir of Gwoza, Idrisa Timta.
The online news portal attributed its report to security officials aware of the incident.
According to the report, the two top emirs were seized by gun-wielding insurgents at 10 a.m. Friday near Shaffa while they were travelling to Gombe to attend the funeral of the Emir of Gombe, Shehu Abubakar.
Abubakar died on Tuesday evening at the Royal Marsden Hospital, London, where he was undergoing treatment for cancer.
The two abducted emirs were elevated to First Class traditional ruler status in January 2014.
At the time of this report, the Borno State government is yet to issue an official statement on the abduction.
The abduction came 46 days after the Boko Haram sect whisked away over 250 schoolgirls from their dormitories in Chibok. Over 200 of the girls are yet to be freed.