Jonathan declares amnesty for Boko Haram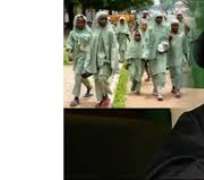 President Goodluck Jonathan has granted amnesty to the members of the dreaded Islamist sect, Boko Haram, but on the condition that they will embrace peace and drop their arms.
Minister of Youth Development, Boni Haruna, disclosed this Thursday during a special event tagged: 'A day with young leaders of Nigeria,' organised to mark this year's Democracy Day at the International Conference Centre, Abuja.
Haruna urged the sect members to take the advantage of the amnesty and lay down their arms.
He saud that series of programmes had been be mapped out to fully reintegrate those that would embrace peace into the society.
According to him: 'President Goodluck Jonathan has also declared amnesty for members of the Boko Haram sect.
'Series of integration programmes have been lined up for the members of the sect who would surrender their arms and embrace peace.
'Let me use this opportunity on behalf of the Federal Government to call on the members of the Boko Haram sect to embrace the government's gesture and key to amnesty programme.'
Haruna recalled that the government had extended similar gesture to the militants in the Niger Delta a few years ago to curb restiveness.
According to him, about 30,000 youths have benefitted from the programme, which has seen beneficiaries transforming from militants to wealth creators, employers of labour and skilled citizens.
Also speaking at an interactive session with the youths drawn from the states of the federation, President Jonathan admitted that insurgency could not be wiped off through force alone.
He said: 'Terror succeeds with local support.
'It will be difficult for terror to thrive where people reject it.
'It is a major challenge to all of us.
'Military alone cannot stop terror or any radicalism.
'Terrorists have people they respect, they have community, traditional and opinion leaders they respect.
'All of us can de-radicalise them.
'We will, through persuasive activities, encourage people to shun violence.'
Present at the event were the First Lady, Dame Patience; Vice President Namadi Sambo; and the Chief Justice of Nigeria, Maryam Aloma-Mukhtar.
Also in attendance were former Head of the Interim National Government, Chief Ernest Shonekan; former Vice President, Dr. Alex Ekwueme; and a former Chief of General Staff, Oladipo Diya.
Late President Umaru Yar'Adua offered the Niger Delta militants amnesty also.
They were to return their arms and ammunition in exchange for pardon and other offers.