TURAI'S SECRET AGONY, YAR'ADUA'S WIFE NOW PRISONER IN ASO ROCK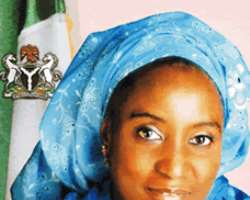 Mrs. Turai Yar'Adua
First Lady, Mrs. Turai Yar'Adua, is currently in agony, which is known by only a few people. Although she cuts the image of a toughie and a superwoman, who, through her iron will, has held on doggedly to the reins of power on behalf of her ailing husband, President Umar Musa Yar'Adua, Saturday Sun can exclusively reveal that she is in much more pains than is known to the public.
Sources revealed that the First Lady has many woes, which has left her devastated.
Her father, Alhaji Alkali, suffers a serious illness. Also, her once-upon-a-time close friends and associates have not only shunned her but now hobnob with Acting President Goodluck Jonathan.
Saturday Sun also gathered that Mrs. Yar'Adua has been quarantined in Aso Rock villa, where she's stuck with a husband in dire need of midwifery and cannot venture out to even see her daughter, who recently gave birth to a baby girl. To compound her problems, it was gathered, many Nigerians are calling her names, describing her as a 'greedy, power-hungry woman' who won't let go despite strident calls for Yar'Adua to step down due to his health constraints.
Impeccable sources at the presidential villa revealed that this catalogue of woes has traumatised the First Lady, to the extent that she has become a shadow of herself and in most cases stays indoors to avoid the scorn of former members of the federal cabinet, especially, before they were sacked by Jonathan on Wednesday.
Saturday Sun learnt that the grandeur and perks of office, which, before the illness of President Yar'Adua, were at their peak, have reduced. At present, it was gathered, governors' wives, who used to visit her as well as other dignitaries, who do her one favour or another, while in Abuja to see Yar'Adua, no longer do so.
The expansive living room, that used to burst at the seams, prior to last November, is now desolate. The army of sycophants, including those older than her, who called her 'mama,' has found other allies in the family of the acting president.
The fragile health of President Yar'Adua has weakened the First Lady as we reliably found. This was made worse, it was gathered, when the National Assembly approved Jonathan as acting president. She complains to the few remaining close associates that the transfer of power to Jonathan has banned her from reckoning. She is said to be greatly pained that Mrs. Patience Jonathan, wife of the acting president, who she earlier had brushes with, is now the person holding court at the presidential villa and getting all the attention at the villa.
The source said of the agony of the First Lady: 'She still can't believe that people like Prof. Dora Akunyili will turn against the president and his family. Of all the ministers, Dora was the closest. She had access to everywhere in her house, including the kitchen. Every Friday, Madam Turai used to prepare masaran (Hausa delicacy) and send to her. She used to fall over her. But today, she's calling them names.'
It was gathered that Akunyili is not the only person in the recently dissolved cabinet who has deserted Turai and her ailing husband.
'There are some governors and ministers who made Aso Rock their second home. You will think that these governors live in Abuja, but now you can't find them. The ministers have turned their back against the president and his family. Madam is shocked at this cruel and insensitive side of human nature,' the source said.
Saturday Sun learnt that even more agonising for the First Lady is her dad's ill-health, which came about the same time her husband was in critical condition in Saudi. According to sources, Alhaji Alkali (her father) had to be flown to Egypt for urgent medical care, which was supervised by Turai's personal doctor, Rasheed.
'She has been deeply troubled. Imagine a woman saddled with taking care of an ill husband and father at the same time. Imagine a woman who, because of these two critical events, couldn't go and take care of her new grand daughter in Kebbi State. That woman is in pains and she is being abused daily and portrayed as a bad woman,' the presidential villa source said.
It was gathered that the dissolution of the federal cabinet devastated the first lady, as it means she has completely lost power. Sources said that until the sack of the Federal Executive Council, she was still getting information on the plans in government from the few ministers, who remained loyal to Yar'Adua. But with the dissolution of the cabinet and the planned constitution of a new one, she fears that she and her husband would not make any input.
The First Lady's close confidant told Saturday Sun: 'Wednesday's dissolution of the federal cabinet would be the most fatal blow the First Lady got in recent times. She never thought it would happen. She had reckoned that with the presence of her husband in the villa, Jonathan would be cautious in taking some actions. Now with the ministers sacked, she is greatly in agony.'
When Saturday Sun sought answers to why Yar'Adua can't simply quit over these travails, our sources said: 'Madam would want her husband to leave power. She doesn't believe it's a do-or-die matter. She is only after protecting the family name and ensuring that they are not humiliated out of office. She doesn't think it is right to continue to abuse a sick man and heap all kinds of blame on him.'
As the clock ticks in the nation's volatile political terrain, with all kinds of permutations and gladiators posturing for the plum job, it remains to be seen if Turai's wish for her ailing husband (not to be humiliated out of power) will be met or not. For now, the waiting game continues as the big woman conrinues in her agony.