Obiano initiates move for Anambra to join NNDC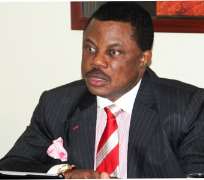 Anambra State governor, Chief Wilie Obiano has taken steps for the inclusion of the State among the oil producing states of the federation as well as the Niger Delta Development Commission (NNDC).
Flagging off the construction of a bridge across Omambala River and a 12 kilometre access road linking Umueje in Ayamelum local government area to the Oil Rig belonging to Orient Petroleum Plc at Aguleri Otu in Anambra East LGA awarded to Estrada Construction Company at the cost of N5 billion, Chief Obiano expressed optimism that Anambra would soon become a beneficiary of all the compensations of an oil-bearing state.
The governor described oil and gas as one of the major pillars of his development strategy for Anambra State further explained that the oil rig is an important component of his administration's plan to force a development agenda into place in the state.
According to him, the production capacity of the rig would increase from the present 1000 barrels a day to 6,000 barrels a day within the next six months following the planned activation of four more oil wells.
The governor further explained that the road was of strategic importance as it is the first direct access route from the state to the Orient Oil rig and  traverses many  food producing communities and when completed the road would  enhance activities at the oil rig and pave way for easy evacuation of agricultural produce.
Governor Obiano also assured that more roads would be constructed in the area and that the security network had been strengthened further urging the people to protect government facilities from vandals prowling the area.
The Commissioner for Works, Sir Callistus Ilozumba revealed the bridge project alone would gulp N2billion from the contract sum, assuring that on-going massive infrastructural development would open up Ayamelum LGA.
In his address, the Chairman of Ayamelum Local Government Council, Mr. Paul Obiorah said the agricultural programme would unlock the huge potentials of the area and thanked the governor for identifying with the community.
Also speaking, the President-General, Umueje Town Union, Mr. Joseph Emegini  noted that it was the first time  such a  project is  being executed in the area and assured  that they will protect all government investments in the area.