Gov. Kwankwaso intervenes on rift between Adamawa lawmakers and Nyako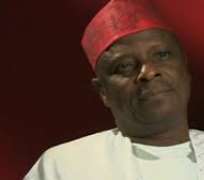 Gov Rabiu Kwankwaso of Kano has intervened in the rift between the Adamawa House of Assembly and the state Governor Murtala Nyako.
The Kano governor and Nyako met members of the House Monday evening behind closed doors.
The meeting which lasted several hours started around 4 pm at the presidential lodge of Government House Yola. Newsdiary reports that the meeting was to be attended by Gov Magatakarda Wammako of Sokoto state but the plane that brought Wammako could not land at Yola Airport due to rainstorm.
Adamawa lawmakers were led in the meeting by the Speaker, Alhaji Ahmadu Fintiri, who refused to speak to newsmen at the end of the meeting by rushing to his car which zoomed away.
Kwankwaso who is believed to have 'mediated' in the meeting to save Nyako from impeachment simply told newsmen that he was in Yola to see Nyako for discussions that were beneficial to the two states. 'I am here to see my senior brother. We had some good discussions that are very much relevant to Kano and Adamawa states', Kwankwaso said. Reports indicate that following last week's defection of the only three APC lawmakers in Adamawa assembly to PDP- making the house all PDP-speculations became rife about a plot to impeach the Governor, an allegation the house denied.