Bukky Wright Supports Son's Music Career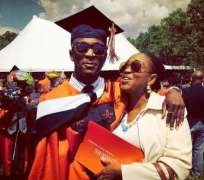 Nollywood actress, Bukky Wright, is one of the most successful actresses in Nigeria and commands good money when asked to act in a movie production and directs good when directing her own movie.
Recently, the actress could not hide her happiness when her son, Amu, graduated from the Rutgers University New Brunswick.
Amu who is based in New Jersey, popularly called Ojayy, apart from being a student, happens to be a rapper and is already out with an album which the mother is helping to promote.
The charming and elegant actress was born Oluwabukola Sekinat Ajoke Wright on the 31 of March 1967. She studied Economics at the University of Lagos, Lagos State, Nigeria.
Bukky Wright started her acting career in 1996, and has featured in over 50 interesting Nollywood films. She has got two lovely boys.