I recreate people as celebrities ---Banke Meshida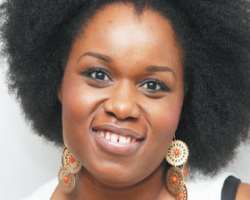 Banke Meshida-Lawal is a makeup artist of over a decade. She had wanted to become a diplomat right from her childhood, but she ended up studying English at the University of Lagos, (UNILAG). While at school, she earned a reputation for being a face painter because of her dexterity in the art. In this interview with RONKE KEHINDE and ESTHER IJALANA, Banke talks of how she ended up as a makeup artist, her makeup line- BMPRO, her memorable days and her plans.
How and when did you get yourself into this profession?
I started when I was in school. It was a natural procession after graduating.
What did you study?
I studied English at the University of Lagos.
Are you living your dream or what was your childhood dream?
I wanted to become a diplomat, because I like to travel a lot. I wanted to do a course in international relations but it wasn't offered at UNILAG and that was the only school I was willing to go to, so I changed my course of study to English.
You wanted to become a diplomat and you ended up as a makeup artist, what happened along the line?
I had always enjoyed drawing and painting. While growing up I took art lessons on how to paint using poster colours. Naturally, I applied my own makeup when I was at the University and people would walk up to me and ask if I would help apply their own makeup. I built a reputation while I was at the University as a face painter. And a lot of my peers looked up to me to help them beautify their faces. Naturally I just realised that I didn't enjoy doing any other thing, I just started doing makeovers.
When did you go into it full time?
I actually wanted to do paid employment, but I was just always travelling to do makeup and the time to apply for job never surfaced. I figured I was saving money from what I was doing. I just realised that there was no pressure on me to look for job, I was still living with my parents whatever I was making I was saving. I decided to open a makeup studio with all my savings and gradually I just progressed into this.
What is your family background?
I was born in Ife, my father was a Lecturer and my mother was a radiographer. I came from a family of six children. While growing up we were encouraged to do what we wanted to do especially in the arts. I started playing violin at the age of five; we all had a musical digression.
Were you playing in the church?
I was playing in concert with my father at the Muson. I was just playing for self gratification.
While you were doing makeup for people was your father happy with what you were doing?
Naturally my father felt that it would interfere with my academic work, because I used to travel a lot for weddings. He said to me that with all these work you are doing don't come up with low grades. I said no Dad; this is only during the weekend. My grades didn't suffer and I guess I disturbed him less for pocket money. After a while they came around when they saw that my grades didn't suffer. They were okay with whatever I was doing.
Share with us some of the memorable moments in the course of your duty?
I've been to areas in Nigeria where there are thick forests, no electricity in the course of travelling for this job. Sometimes I travelled alone, or with the bridal party, or bride's family and I've met a lot of people over the years. It's just very interesting and fun for me to realise we have so much ethnic and cultural diversity in this country. It's very interesting that we are all Nigerians but we are all diverse.
While growing up did you see somebody who influenced you in this profession?
While growing up I read magazines, and books. I also enjoyed watching fashion channels. The inspiration to do makeup has always come from within. There are so many makeup artists and fashion designers that looking at the work of my colleagues strike some inspiration.
Have you ever been in the midst of people and you were being looked down at as a makeup artist?
I won't say looked down at. I will say a lot of people don't know who a makeup artist is, so I have to enlighten them that this is what I do and after I've finished my work they will now appreciate you for what you are doing.
How would you compare the acceptance of a makeup artist 10 years ago and now?
In the space of ten years there have been a lot of development and enlightenment. Not everybody knows who Banke is; there is still need for more enlightenment in that area. It's my job to tell them this is what I do and I can help them with their makeup and skin care.
Then, when there was little awareness on makeup and people don't even appreciate a makeup artist how were you able to cope?
It has to do with enlightenment and projecting one's brand. A lot of people see the profession as glamorous. In as much as it 's glamorous there's up and down involved, hard work and perseverance is involved because some people will talk down on you, some will be out rightly rude. You won't say because of that you will stop what you're doing. It's just like every other profession, where there are obstacles along the way. I and few other makeup artists have been able to see these obstacles as challenges and forged on. The image of the makeup artist today is seen as one that is necessary, and their impact is being felt. When I started I didn't know there were makeup artist, but when it became public that there is a makeup artist her name is Banke other people came forward and say they've been in the industry even before I started. It has to do with pushing out myself from the crowd. In Nigeria everyone follows the band wagon. I won't say I'm the first makeup artist in Nigeria, no I believe there are other ones like people doing skin care, cosmetologist, fashion designing; they were all there. When there was a focus on makeup artist, they all realised that they were also makeup artists.
Don't you think it's time for makeup artists in Nigeria to have an association?
I have my reservations about makeup artists association, but I've been enlightened by my peers about the importance of such association.
Do you have an association?
They've started one.
Last week you did a three- day makeup and photography section, what was it all about?
Going through magazines I realised that if I could re-create these look on 'mere mortal' I decided to do with my teams and ace photographer Ade Plumbtre who is always ready to capture images. He notified me of his interest to be part of it. We told people to bring in pictures of their favourite celebrities and we'll create the look on them. It's amazing that you can use makeup to make people look alike. You can place eye shadow here and eye liner there in the same fashion that someone else has done it and there will be great similarities in the way they look and that was the aim of the show.
What is your plan for the future?
Provision of makeup products to people and generally to continue to apply makeup in a more hygienic way, and provision of excellent makeup service.
How do you improve yourself in your profession, do you attend seminars, conferences and read books to improve on your work?
Because I'm a self taught makeup artist, I haven't attended any formal training like my colleagues in the industry. But I will say that no knowledge is lost. Generally I read books and develop my own style of makeup. Nigerian makeup is in a class of its own. I'm just trying to be versatile in as much as I have my own style, I can create looks based on what someone likes. I won't try to force my style on you; I guess that's what makes me a professional. It's being able to work with people and doing what they will like, and also not go against my own style of makeup, so that I can still have my own signature somewhere there. I'm constantly training myself, I'm constantly reading books. Trend changes you can't stay in one spot forever, you have to keep trying to improve.
How lucrative is this business and what are the challenges involved?
It has its advantages and its pitfalls. It can be capital intensive especially the makeup line. But I will say that we get by.
Share some of the challenges you have faced?
One of it is managing people. Another challenge is when bringing in makeup products; sometimes some of them get bad, spoilt, or even breaks. So far the biggest challenge is that of customer relation, you have to satisfy them and no matter what, customers are always right.
Share with us some of the memorable days of your life?
When I met my husband and I realised that he liked me. Another one is the birth of my daughter, and when I opened my first studio.
What is your phobia?
I have phobia for height.
Share with us what attracted you to your husband?
He's fun loving. He's an intellectual; when we are discussing the kind of response he will give is very interesting.
To your credit you have had some awards, can you tell us about these awards?
City People Female Achiever Award for the year 2002; City People Award for Young Female Achiever of the Year 2005; The Future Award Entrepreneur (Beauty and style) 2008; Exquisite Magazine Award for Nigeria Makeup Brand of the Year 2009. It's a nice feeling to know that your work is being appreciated, you're regarded as someone who made a difference in the development of the country and you're nominated as a sort of inspiration for young people coming up.
There are six of you in the family, how many of your siblings are professionals?
There are three other professionals. We have IT, Lawyer, PR – branding.
What is the difficult experience for you in your profession?
None comes to mind because I'm a very patient person; before something could exasperate me it can take a while. I might do something and forget about it.
What is your greatest achievement so far?
That is yet to come.
Describe your style and your colour?
I tend towards comfort and I like dark colours.
Are you a designer freak?
I'm a bargain hunter I cannot be a label freak.
What type of perfume do you wear?
I wear Citrus perfume and Clinique Happy.
How do you rate makeup artists now?
There are a couple of makeup artists around now, different from when we were very few. More people are available to use now. My staff are well trained that people are comfortable with them, even when I'm not available. It means there is development; except some people will refuse to have someone else do their makeup
Story by nollywoodgists.com