HARI BEST CONFIRM THE RAPE's STORY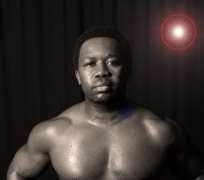 The rumour was all over the place last week that Adetokunboh Moradeyo popularly referred as Hari Best, the London based but now in Naija sensational artiste who sang the popular 'No More Yahoozee' was raped by some alleged undergraduates from one of the top universities in Ogun State.
Well, we can now authoritatively reveal that Hari Best was truly molested by the so called prostitutes but escaped by divine intervention. An encounter with him a couple of days back, the handsome dude said he was shocked to read that in the papers and was so remorseful that his good name is being dented by the so called varsity damsels.
On if the story is true, he said 'I don't know, someone definitely gave the people that wrote it and I expected them to verify from me before going to the press. I actually went to see my friends and met his friends at home but when I noticed that the girls were acting funny, I quickly left unnoticed. So, the issue of rape didn't occur at all, though, the girls were about to do something nasty before I quickly went for the door." He said.
Story by nollywoodgists.com/Malik Alomaja