Boko Haram: 40 vigilante members killed, abducted school girls sighted in Chad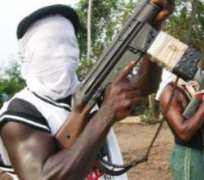 More than 40 people were reportedly killed in fresh attacks in early hours of Friday in north-eastern Borno State.
The Boko Haram Islamist insurgents have upped their ante with recurrent raids across the North, which have left more than 200 dead.
The group again on Friday the sect raided three villages and killed those accused of being against their ideology in the North East.
The raids took place as the US Security Council approved sanctions against the Islamist group.
Residents from the two of the villages that came under attack said militants had attacked in a convoy had gathered all vigilante members of the community before opening fire on them
One villager from Moforo in Marte district, who escaped across the border to Cameroun, told newsmen that the second village attacked was Kimba village in Biu district.
The gunmen suspected to be members of the Boko Haram sect may have killed three people in Kimba town in Gur ward of Biu Local Government Area of Borno State.
The attackers were said to have burnt down almost half of the town and shot three people who are said to be receiving treatment at Biu General Hospital.
Kimba is said to currently be a ghost town as everybody there has fled to seek refuge in Sabon Gari, while other fled to Mandara Girau and Biu.
About 25 men were killed in Moforo and another eight men in Kiribi.
A local resident, Mallam Umaru Saina, was quoted in a report as saying that about 30 terrorists on 10 motorcycles stormed Alagarno village yesterday at 1:30a.m. and had a field day before they left.
He said: 'A young woman in Alagarno village was missing during the attack, but nobody knows whether the woman was taken away by the insurgents who destroyed everything we had and burnt down our remaining food.
'The most painful thing is that, they did not spare children. They killed children, women, and men.'
In a related development, a dgital newspaper, Premium Times quoted senior military and administration officials as saying that Nigeria's Special Forces from 7 Division have sighted and narrowed the search for the abducted Chibok schoolgirls to three camps operated by the extremist sect north of Kukawa at the western corridors of Lake Chad..