Soldiers Did Not Attack Commander - Olukolade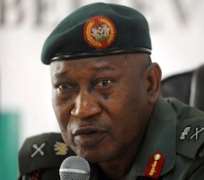 The military on Friday said there was no mutiny at Maimalari Barracks in Maiduguri, but admitted that there were complaints of transportation problem by some residents of the barracks.
Major-General Chris Olukolade, the Director of Defence Information, made the disclosure at a news conference at the National Information Centre, led by Mr Mike Omeri, the Coordinator of the centre in Abuja.
Olukolade said that the information on mutiny in Maiduguri was false and misleading.
'There was no mutiny as reported by an online media, but some residents had complained about the lack of water in the barracks and it was rectified.'
He also said that soldiers were not being owed allowances, as all allowances were being paid when due.
The director added that all soldiers were paid same allowance, including the generals, stressing that 'there is no difference in allowances.
'Also, no soldier protested, so, the media should be weary of unsubstantiated information.'
Olukolade said investigation into various issues regarding the military were ongoing, but denied knowledge of any investigation of an army general selling weapons to Boko Haram members.
'I don't know about any General selling weapons to Boko Haram members. I cannot give any information about that.
'The Nigerian military is not an irresponsible outfit.'