Licensing one CMO is an invitation to chaos, says Zeb Ejiro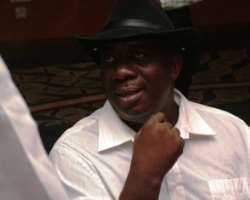 WHEN Nigeria Copyright Commission (NCC) late last year called for organisations within the creative industry to submit applications preparatory to being granted licence to operate as Collective Management Organisations (CMOs), it was thought that the industry regulator was finally on the path of resolving the confusion in collecting rights management in the country. But the licensing matter has since dragged on to the collective dismay of many, who now second-guess what the intentions of the NCC really are regarding the matter.

One such industry insider, who is uncomfortable with the seeming uncertainty, indecision and confusion that have come to be the lot of the NCC is moviemaker and rights owner, Mr. Zeb Ejiro. In a telephone conversation from his Ozoro, Delta base, where he is organizing his new radio and film school, Ejiro said genuine rights owners would go to court to challenge the copyrights regulator if one CMO was licensed to operate in the country.
The moviemaker, who said he uses original scores for his movies maintained that the era of business monopoly was over with the licensing of multiple players in banking, telecommunications, oil and gas and other businesses. He argued that it would be anachronistic for the NCC to want to drag the industry back and plunge it into another round of crisis if one CMO was licensed.
He declared, "I have said it may times; there is no way you can have one CMO. I went to Norway, and they have a lot of COMs. So there is no way you can come to Nigeria and have one CMO. People should know the truth for themselves. I wonder why some people want to opt for one CMO. There are a lot of areas where CMOs can function".
Ejiro also stated that for the NCC to have asked interested collecting organisations to submit applications to be licensed as CMOs was enough proof that the commission believes in multiple collecting bodies for Nigeria's creative industry and not just one. Therefore going against its own enshrined guideline would be counter-productive, he said, and would not serve the interest of the creative industry.
"NCC asked organisations to send in applications for CMOs," he said. "They know there can never be one CMO for Nigeria. I think enough is enough. It's time to move the industry forward. It's time for artistes to start enjoying their work."
Zeb said he believes in a liberalized business environment and could not understand why certain individuals find it hard to conform to such modern business trends but would rather propose outmoded models. He maintained that there was enough room for all to operate and that only those with dubious intent would find such liberalized business environments problematic.
Ejiro stressed, "Take the banks, for instance. There can't be one bank. Even with the banking consolidation and reforms, one bank was not licensed to operate. The same thing happened to the telecommunications industry. You can't tell Nigerians to subscribe only to Zain or Glo. That is how it should be for other areas. That is the kind of opportunities the creative industry should have.
"Anybody with enough repertoire of creative works should be given the license to operate. If the NCC licenses one CMO, we will go to court; we can't have that! It's my duty to choose my CMO; you can't force me to give my right to people I don't want or believe cannot gurrantee my rights."
In responding to many publications attributed to a collective of artistes and rights owners led by newly created Copyrights Society of Nigeria (COSON) to have one CMO, Ejiro said such claims were laughable and wondered who such artistes and rights owners were. "Some people are jobless and they want to enjoy where they did work.
"If there is anybody that qualifies to be in that position, it has to Music Copyright Society of Nigeria (MCSN) but they are not making such blind argument because they are well-informed about collective management and will not fall into the erroneous position of asking for one CMO. MCSN hold the largest repertoire of musical works in Nigeria and they have international affiliate bodies in the US, South Africa, the UK and parts of Europe, which it works with to protect the rights of Nigerian artistes all over the world.
"As for COSON, what gives it legal backing? It shows that Performing Mechanical Rights Society (PMRS) is empty; it means they don't have a vision or anything to offer as we have been saying all along yet they want one body. MCSN to which I subscribe doesn't operate like that."
Creating a monopolist for collecting rights, Ejiro stated, meant that Nigerian artistes would suffer much the same way they had been suffering before, adding that it wouldn't work for the good of the industry. He advised his colleagues Tony Okoroji and Laolu Akins who are routing for one CMO to have the interest of artistes at heart before proposing their views.
In the same vein, Ejiro declared that the NCC director-general Mr. Adebambo Adewopo was the problem of the industry, and called on the government to change guards in order for new ideas and vision to prevail in the commission. Anything short of introducing new blood at the NCC, he opined, the creative industry would continue to bemoan its fate.
He asserted that "The bane of the industry is the NCC and the driver of that problem is its director-general Mr. Adebambo Adewopo. He has been there for many years now and nothing happens. Does government want to bury the industry? It's time they make a change and bring people with business idea. The NCC is the problem by not doing what is right. Let's set the MCSN and PMRS angle aside; the problem is NCC. What they are supposed to do is register CMOs. They started well by calling for registration. But when some people shouted, they postponed the exercise.
"The only way forward is for the NCC to register as many CMOs as possible and not one. You can't force people to do what they don't want like asking them to bank with only Union Bank or First Bank. Government should remove Adewopo for the industry to move forward; he's the only reason why artistes are not enjoying today.
"Yes; that is my position. He has totally lost direction in the running of the NCC. Somebody that has ideas and vision should be appointed.
"The man is confused. Piracy is at its highest level yet the NCC is doing nothing. So what are we keeping him for? The creative industry is dying, and people are exploiting the works of artistes without paying".
Ejiro noted that the fight against such ills like female trafficking, poverty and unemployment might yield little result if the creative industry that absorbs an army of youth is allowed to continue to rot as the industry currently does.
Ejiro advised rights owners to grab the bull by the horn by coming together to speak with one voice in order to move the industry forward. He maintained that if practitioners kept complaining or merely lamenting the problems in the industry nothing would happen, adding that it was time they took action.
Asked if he wasn't echoing COSON's position with its series of actions like the hunger strike and fight against piracy, Ejiro insisted the said hunger strike was a mere political ruse by PMRS and some funny, jobless characters, who wanted attention for themselves. For any action to have maximum effect, Ejiro stated that a powerful delegation might be sent to the Acting President Goodluck Jonathan, adding that plans were already afoot to that effect.
Such high-power delegation, he argued, would impress on the Presidency the need to save the industry from the ineptitude of the NCC boss before repositioning the industry. According to him, Acting President Jonathan was a lover of the creative industry as demonstrated by his support for Africa Movie Academy Award (AMAA) while he was governor of Bayelsa State.
Ejiro said he was intrigued that the NCC and its boss were foot-dragging in licensing CMOs long after it led the industry to believe it meant business. The one question he really would want the NCC boss to answer is when will multiple CMOs be licensed?
According to him, he and other industry stakeholders want answers fast to stem the tide of losses Nigeria's music industry has continued to suffer. And, with the NCC dragging its feet in licensing CMOs, Ejiro said, artistes' suffering might continue unabated.
Story by nollywoodgists.com