No regret marrying Dudu Heritage's boss, says Bimbo Oshin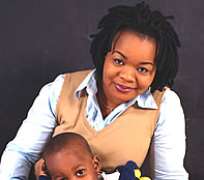 In this interview, actress Bimbo Oshin-Ibironke told David Ajiboye how her life was transformed when she met Ola Ibironke, Dudu Heritage's boss, among other things. Excerpts:
How did you get your way into the movie industry?
I was introduced into acting by a friend, Ronke.
How did you meet Ola Ibironke?
I met him on the Island in Lagos, at Ikoyi to be precise. We dated for three years before we agreed to settle down.
Can you tell us how you felt when you discovered you were pregnant for Dudu Heritage?
Every woman will feel great and happy to know that she is pregnant for the person she loves. So, it was not about being pregnant for Dudu Heritage, it was about being happy and fulfilled as a woman.
How many movies have you produced?
I have produced three; Eji Owuro, Owu Iya and Temi Yemi.
What's your lowest moment in life?
I don't have any.
If you have the opportunity of meeting God what will you ask from Him?
To bring back my late father to spend more years on earth, so that he can keep my mother's company the more, and they can both leave when they are above 100 years old. I love them a lot.
What's your daily beauty routine?
I take two glasses of water and four spoons of pure honey.
What turns you on in people?
Honesty and cleanliness are the two basic elements that turn me on in people.
What turns you off?
I hate people who are dishonest.
Mention the names of three people that mean so much to you in life.
They are my parents, my husband and my son.
Were you ever harassed sexually as an upcoming actress?
No. I was not and nobody can harass me in any form.
Which movie brought you to limelight?
Akobi.
Do you have any regret marrying Dudu Heritage?
No regret whatsoever.
How would you describe your marriage to Dudu Heritage?
Fantastic!
Who is your best friend?
Obviously, my husband.
Tell us about your background and growing up.
My name is Bimbola Oshin-Ibironke, born over 30 years ago in Ondo town, Ondo State, into a wonderful family of eight. I'm second to the last child of the late Pa Olasanmi Theophilus Oshin and Madam Oshin. Growing up was quite interesting. I studied Philosophy at the University of Lagos before going into acting.
Story by nollywoodgists.com/David Ajiboye