NNPC says there was no fire outbreak at PH Refinery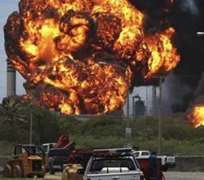 MEND claims responsibility for the fire incident
n
The Nigerian National Petroleum Corporation (NNPC) said Monday there was no fire outbreak in its refinery in Port Harcourt.
The corporation in a statement refuted reports which were awash in the media that the Port Harcourt Refinery in Alesa-Eleme and the nearby Pipelines and Product Marketing Company (PPMC) Evacuation/Reception Jetty in Okrika Rivers State were gutted by fire on Sunday.
According to the NNPC, findings from its preliminary investigation revealed that the fire was caused by the activities of oil thieves who hacked into a pipeline somewhere in the creek where they were siphoning petroleum products when the explosion occurred and that the fire did not in any way affect the refinery or the PPMC Jetty in Okrika as widely reported.
'We can confirm that the Port Harcourt Refinery and the Okrika Jetty are intact. The reported fire incident did not in any way affect our operations,' it stated.
' While we sympathize with the families of the oil marauders who reportedly lost their lives in the unfortunate inferno, we wish to implore community leaders in Okrika and its environs to appeal to their wards to refrain from product theft and hacking of pipelines.'
The NNPC asserted the integrity of its pipelines stating that engineers and technologists from the PPMC Pipelines Right of Way Unit are being dispatched to the scene of the incident for proper technical evaluation.
Meanwhile, the Movement for the Emancipation of the Niger Delta (MEND) has claimed responsibility for Sunday's explosion at the Nigeria National Petroleum Corporation (NNPC) jetty, Okrika, Rivers State.
This came as the Petroleum and Natural Gas Senior Staff Association of Nigeria (PENGASSAN) called for urgent probe of the incident in which several persons died..
In a statement posted online  Monday afternoon, MEND said the explosion was part of its Operation 'Hurricane Exodus' aimed at sabotaging oil installations in the Niger Delta region.
The statement signed by its spokesman, Jomo Gbomo, read, 'The Movement for the Emancipation of the Niger Delta (MEND) takes responsibility for the sabotage on Sunday, 18 May, 2014 , on the Nigerian National Petroleum Corporation (NNPC) Refinery Jetty pipelines in Okrika, Rivers State of Nigeria'